Many times, people think that kids are just kids. Even in the "progressive" Bay Area, they can think that an early learner – like a 1-year-old or a 2-year-old – doesn't need a systematic learning plan. But in fact, all kids are learning almost from the moment they are born, and even the very young ones can benefit from Montessori daycare in Fremont, CA.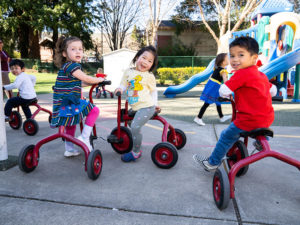 This is what we provide at Learn and Play Montessori. Our aim is to get your child off on the right foot, because the sooner you start with a structured learning plan the better. Of course, let the kids play. We are not suggesting that they need to start learning Latin just yet! But with the Montessori method, the child him or herself starts to learn using all the toys and materials that we have available. The child can choose what to play with and what to discover, and so very quickly finds that learning is fun.
Learning Should Be Fun
Why shouldn't learning be fun? After all, do we want to make learning a chore? Something that a child doesn't like to do? Of course not. And this is why the Montessori method sets out to make the learning experience fun, starting with Montessori daycare in Fremont, CA. What happens is that the child very soon begins to love learning for the sake of learning. If learning is fun, he or she is going to want to keep on doing it.
We provide Montessori daycare in Fremont, CA, at all of our campuses. They are in Irvington, Peralta, Maple, Niles, and our latest one in South Fremont on Fremont Blvd, with another due to open shortly in Milpitas. So, you can get your child started off on the right foot from the get-go.
The Montessori method allows each child to choose what to learn about. Our classrooms contain a large amount of top-quality Montessori materials, and every child is allowed to select whatever catches his eye, and take it away and play with it, explore it, find out what it does (if anything), and above all, learn about it. Our teachers keep an eye on every child, most especially the little ones of course, and when they are ready to progress a little further will introduce them to further materials.
So, as we said, the learning process becomes something that is fun to do rather than something that the child has to do, like it or not. And it all starts with Montessori daycare in Fremont.
In order to get your child off on the right foot, we welcome you to drop by and take a school tour so that you can see how well the children are doing for yourself.