Fremont, California – March 27, 2019. Learn and Play Montessori, a top preschool program in Fremont, California, is proud to announce content upgrades for its Peralta location. Busy Fremont parents can learn more via social media updates for one of its key preschools serving central Fremont and the Centerville neighborhood.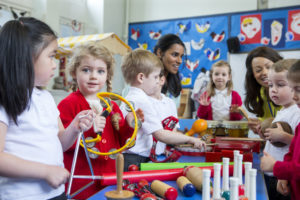 "Children are individuals and have distinct personalities. This can affect how quickly they learn to accomplish tasks for themselves. Some seek assistance for all of their needs while others are ready to do everything independently," explained Harpreet Grewal, director of Learn and Play Montessori. "We want Fremont parents and the greater Bay Area to know we are ready to help all children develop good skills in self-reliance."
The school is announcing four interrelated updates. First, the upgraded content on the Learn and Play Montessori Fremont, Peralta page can be reviewed on Yelp. The Central Fremont Montessori Preschool pages show better photos and content. Second, a push to expand the schools' social outreach on Facebook is ready for viewing at https://www.facebook.com/LearnAndPlayPeraltaCampus/. Third, in addition, the school is increasing its tweets to https://twitter.com/LAPMS_Peralta and has launched a "branded hashtag" as #LAPMSPeraltaTwitter. And fourth the landing page for central Fremont preschools has been updated at https://www.learnandplaymontessori.com/peralta-fremont.
CENTRAL FREMONT MONTESSORI PRESCHOOLS TAKE CHILDREN FROM INSECURE TO CONFIDENT, INDEPENDENT LEARNERS
Here is the background for this release. A professional daycare, preschool, and kindergarten program serving children ages two through six is proud to announce a significant upgrade to the Yelp page. Central Fremont Montessori preschools are expanding social outreach to support young Bay Area families in a quest for high-quality daycare. Growing children may need help navigating new challenges as they prepare for elementary school. The right preschool environment can make a positive impact.
Young children meet milestones on an individual basis. A five-year-old can push away a mother's hand to try and tie shoelaces on their own. A three-year-old can commonly use the term "do it myself" to handle daily tasks independently. Some children can move in the opposite direction clinging to a parent and asking for help with every personal responsibility. Fostering independence in an insecure child can be vital to learning development. A team of teachers at central Fremont Montessori preschools are ready to help young children gain confidence in personal abilities.
Demanding assistance for simple, manageable tasks such as wearing a jacket can be the sign of an insecure child. Fear and angst can hinder learning development. For these reasons, Learn and Play Montessori announced four key updates to its media strategy for Fremont, California.
ABOUT LEARN AND PLAY MONTESSORI
Learn and Play Montessori aims to be one of the best Montessori schools in the greater San Francisco Bay Area. Whether parents are looking for a Montessori School in Danville, a Blackhawk preschool or a top-rated Montessori School in Dublin / San Ramon, Learn and Play has a campus for their child or children. Bay Area parents searching for Walnut Creek preschool options could find the right fit in Danville. All schools use the famed Montessori method, offering programs from childcare to daycare, preschool to kindergarten, in not only Danville, Fremont, Dublin or San Ramon but also in nearby towns such as Alamo, Blackhawk, Diablo or San Ramon on the I-680 corridor as well as Walnut Creek.
Learn and Play Montessori
Media Relations