November 1, 2019 – Fremont, Danville, & Dublin, California. Learn and Play Montessori; a provider of best-in-class Montessori preschool education in the San Francisco Bay Area including Danville, Dublin, and Fremont, is proud to announce recognition by Yelp as one of the best preschools in Fremont for the fall 2019 period.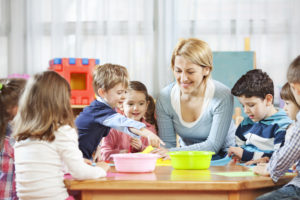 Parents and caregivers of young children can read local reviews from residents posting five-star ratings about the Montessori Method at work at the school's Fremont locations.
"We are very proud of our latest achievement on Yelp as one of the best preschools in the East Bay," explained Harpreet Grewal, director of Learn and Play Montessori. "Our preschool teachers love what they do and don't expect a lot of attention, but it's nice to be recognized. The posts are uplifting and confirm that we are achieving our mission."
East Bay parents searching for the right balance between early learning and quality daycare, preschool, or kindergarten can find the listing about Learn & Play Montessori. The school is proud to be recognized as one of the best preschools in Fremont, and urges parents to visit the site-specific locations such as https://www.yelp.com/biz/learn-and-play-montessori-school-fremont-6. Learn & Play Montessori has six locations in the East Bay, including Danville, Niles, Irvington, Dublin, Maple, and Peralta. To review details about the Peralta school location please visit the school's website. School tours are available at all locations for parents ready to visit a site and learn more.
BAY AREA KIDS RISE AND SHINE AT THE BEST PRESCHOOLS IN FREMONT
Here is the background on this release. Choosing a preschool in Fremont, California, can be a daunting task for new parents. Location and price might be important, yet parents can expect more from one of the best preschools in Fremont. It could be essential to find a childcare facility teaching early education standards such as reading fundamentals. Other expectations can include highly trained preschool teachers and an abundance of learning toys in bright, clean rooms.
A true indicator of a successful fit might reside in the attitude of young students. Children eager to get up in the morning and see the preschool teachers can be a good sign. Lively chatter about new friends and practicing early learning milestones can suggest a child is on the right path.
Professionally trained Montessori teachers provide several learning opportunities for curious young minds. Parents' post to social media and review sites about welcoming staff, loving teachers, and noticeable learning development are yet another sign. Milestones include practicing valuable social skills and potty training success.
Postings about young children excited to go to one of the best preschools in Fremont could help other Bay Area families find the right fit. For these reasons, Learn and Play Montessori is proud to announce inclusion on Yelp as one of the '10 Best Preschools in Fremont.'
ABOUT LEARN AND PLAY MONTESSORI
Learn and Play Montessori aims to be one of the best Montessori schools in the greater San Francisco Bay Area. Whether parents are looking for a Montessori School in Union City, Fremont, and Niles, or a top-rated Montessori School in Dublin / San Ramon, Learn and Play has a campus for their child or children. Bay Area parents searching for Walnut Creek preschool options could find the right fit in Danville. All schools use the famed Montessori method, offering programs from childcare to daycare, preschool to kindergarten, in not only Danville, Fremont, Dublin or San Ramon but also in nearby towns such as Alamo, Blackhawk, Diablo or San Ramon on the I-680 corridor as well as Walnut Creek.