Dublin, California – December 20, 2020. Learn and Play Montessori, a best-in-class provider of Montessori education for preschool and kindergarten children in the San Francisco Bay Area and now online, is proud to announce a new post for parents ready to explore virtual Montessori learning opportunities. The quality curriculum follows several attributes established by established children's programs. A modern early-learning model mixed with the best teaching techniques could be the right fit for young children, and providing this online in a virtual kindergarten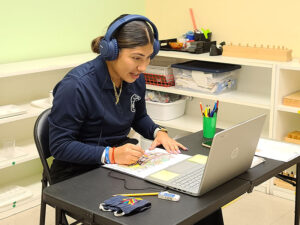 program is truly unique.
"Our job is to provide innovative new ways to teach young children in preschool and kindergarten. We also recognize that specific techniques for success have been around for a very long time," explained Harpreet Grewal, director of Learn and Play Montessori. "Accordingly, we combined the approach of award-winning children's TV programming with our Montessori-method to keep young students attentive and learning."
Parents of preschool-aged children can review the new Learn & Play Montessori virtual Montessori program online at https://www.learnandplaymontessori.com/blog/montessori-youtube/. The new YouTube channel for stay-at-home lessons can include the same quality learning practices used in award-winning children's programs. Children throughout the Bay Area, including Dublin, Fremont, and Danville, can experience quality early learning programs at no-cost from home. Parents can review details for online Kindergarten on the topic-specific informational page at https://www.learnandplaymontessori.com/online-learning/online-kindergarten/. Paid options are also available which include live Internet-based instructions and supplemental materials that help parents homeschool their children.
VIRTUAL MONTESSORI CLASSROOM MAKES QUALITY ONLINE PRESCHOOL LEARNING AS EASY AS 1, 2, 3
Here is the background on this release. The success of high-quality television programs has helped children experience the joy of learning before stepping into a classroom. Current restrictions may affect a larger population of young learners during shelter-in-place. The new virtual kindergarten lessons provide engaging, fun learning combined with the Montessori-method flair. Smiling, happy teachers speak directly to students in a cheerful and welcoming tone. Classes for math, letters, science, and art are taught in clean, bright settings. Simple, colorful tools include blocks, beads, and paints to help children follow learning concepts. Virtual Montessori lessons could easily keep the attention of preschool students making online or virtual learning a reality in today's environment. For these reasons, Learn & Play Montessori is proud to announce new virtual Montessori lessons in step with the classic techniques of top children's programming.
ABOUT LEARN AND PLAY MONTESSORI
Learn and Play Montessori aims to be one of the best Montessori schools in the greater San Francisco Bay Area. Whether parents are looking for a Montessori School in Danville, a Blackhawk preschool, or a top-rated Montessori School in Dublin / San Ramon, Learn and Play has a campus for their child or children. Bay Area parents searching for Walnut Creek preschool options could find the right fit in Danville. All schools use the famed Montessori method, offering programs from childcare to daycare, preschool to Kindergarten. Schools are located in Danville, Fremont, Dublin, or San Ramon but also in nearby towns such as Alamo, Blackhawk, Diablo, or San Ramon on the I-680 corridor as well as Walnut Creek.