If you are one of the many parents in the East Bay Area who has had their life turned upside down by Covid-19, we understand. Lots of people are now having to work from home, and their kids have had their schools shut down. This can make taking kids to a school impossible for some folks.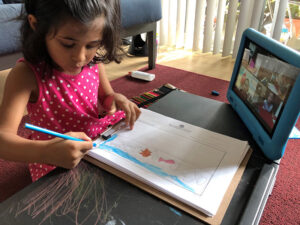 However, your child has to keep on learning, so at Learn And Play Montessori we are now providing virtual kindergarten via YouTube for your child. Yes, your child can attend kindergarten without leaving the home. What's more, we offer both paid and free YouTube videos for your child to enjoy and learn from.
Having said that, we also offer virtual learning on Facebook Live and Zoom with daily sessions for children aged 18 months to six. This means that Learn And Play Montessori is available to children not just in the Bay Area but across the whole of the United States! We do, indeed, have some children learning now from hundreds of miles away through the use of our virtual kindergarten via YouTube.
All Of Our Campuses Are Open As Well
However, not only are we providing virtual learning, but all of our campuses in the East Bay are open and running as they always did. We have campuses in Dublin and Danville on the I-680/580, and no less than five in Fremont – in Niles, Peralta, Irvington, Maple, and a new one just opened in South Fremont. All our campuses take children from the age of 18 months to six and are open from 7.00 am to 6.30 pm, so are perfect for parents who still have to go to work in an office or other business premises. You can drop your child off on the way to work and collect again on the way home.
All of our campuses have large classrooms packed with top quality Montessori materials form which the child can choose something that he or she finds of interest. This is one of the reasons that the Montessori method is so successful, because each child quicky comes to love learning just for the sake of learning, so his mind is always open to new ideas. Our campuses all have a lovely outside play are as well, where the children can play and get up close to nature.
With our virtual kindergarten via YouTube, what we have done is to bring our Montessori method of learning into your home. Instead of you coming into the campus, we are bringing the campus to you! Certainly, we have had to adapt some things, but everything follows the Montessori principles so that your child gets the best learning without any further interruption. Your child's education is critical.