Montessori schools are extremely popular in the East Bay, which is one reason that there are so many of them. Our latest Learn And Play Montessori School in the East Bay is in Danville, which of course is right on the 680 so is very commuter friendly. Our Danville Montessori is easy to reach from San Ramon, Alamo, and Walnut Creek, as well as Alamo Oaks, Diablo, Blackhawk, and even Tassajara.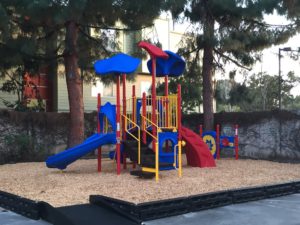 Our Danville Montessori is a spacious Tudor cottage style campus which has eight large and light classrooms and there is a huge outdoor playground as well. We cater for children from 18 months to age 6 and the campus is open at 7.00 am and doesn't close until 6.30 pm which is another reason that we are commuter friendly. We offer part time, full time, and after school child care, so that you can choose a program that fits around your busy lifestyle.
Each of the eight classrooms has a multitude of specially designed Montessori materials from which the child can choose. The Montessori method allows the child to learn what he wants to learn in the way that he wants to learn it, and children learn by doing – using all five senses – instead of learning by listening.
Children Learn by Doing in a Montessori Preschool
Because the child chooses which materials he wishes to use and what he wants to explore with them, there is no element of competition with other children. Each child learns what he wants to discover at his own pace, and some children are naturally quicker learners while others are not. A slow learner is not hurried: he can just carry on at his own pace. Meanwhile, a quick learner is not held back because all of the children are watched by the teachers and when a teacher sees that a child is ready to take the next step, he or she will introduce him to another set of materials to explore.
The Montessori method also keeps children in mixed age groups because it enables the younger children to learn from the older ones, and as the older ones pass on their knowledge it helps to imprint upon them what they have already learned. Not only do the children learn in areas such as math, science, language, understanding the concepts of earth and water and continents and countries, we also integrate movement and dance, music, art, and a second language, in this case Spanish, which will be of great use throughout their lives.
If you are looking for preschool or kindergarten for your child, we encourage all parents to book a tour of our Danville Montessori so that you can see what we do for yourselves.