Many parents who live in or near the Grimmer neighborhood are looking for a best-in-class preschool and kindergarten program that is (a) private and (b) a Montessori-based approach. At Learn and Play Montessori we are both.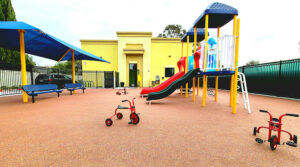 What's more, we have some great news for parents looking for Grimmer preschools in Fremont, CA. We have just built a state-of-the-art campus on Fremont Boulevard just up the road from you. It's now open!
Want the even better news? It's opening this month and we are enrolling children now. You can come and take a school tour and see the beautiful classrooms and the stocks of Montessori materials that we have, all ready for your child to play with and learn from.
Our new campus for parents who want Grimmer preschools in Fremont, CA, is open from 7.00 am to 6.30 pm which is perfect for parents who have to work. It means that whether you start early or finish late you can drop your child off on the way to work and pick him/her up again afterwards. We take children from the ages of two to six in our large bright classrooms, which have wide windows in order to let in plenty of natural light. We also have a great playground at the rear of the school with slides and toys for the children to play with outdoors.
In Addition, We Provide Online Learning for Preschool & Kindergarten Kids
However, since the pandemic began, we also introduced our online learning program, and this means that you really do have the best of both worlds for your child. If you prefer, you can enroll your child into our online preschool rather than have face to face tuition. Furthermore, you can mix and match. Some of our parents are planning to bring their child on to the campus for some days and use the online learning portal on others.
Not only that, but at Learn And Play Montessori we are open all year round, unlike the public schools which close for weeks on end in the summer.
If you are not familiar with the way the Montessori method works, it is based around the fact that the child is an individual and is allowed to learn the way that he wants to learn. The Montessori materials are there in the classroom so that the child can look through them and find something which catches his or her interest. He/she can then explore them and learn about them at their own pace. There is no pressure and there is no sense of competition.
If you are a parent looking for Grimmer preschools in Fremont, CA, and want to find out more about Montessori, book a school tour by phoning us on (510) 826-2111 or email [email protected] and we will be delighted to show you around and answer all your questions.