San Ramon is one of those communities that many people want to get to, and when they do are just happy to live there. It is a bit of a "bedroom" community in that it is right on the I680 corridor, so people commute up and down it.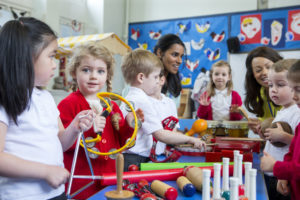 If you are looking for San Ramon preschools options, Learn And Play Montessori has recently opened its latest campus in Danville, which is also ideal for commuting. Indeed, we have children coming to us not only from San Ramon, but from Alamo, Alamo Oaks, Diablo, Blackhawk, and even from Walnut Creek.
Learn And Play Montessori in Danville has large, light, and airy classrooms with specially extended windows to allow as much natural light as possible. The building is a Tudor Cottage style and has lush green surroundings just off Sycamore Blvd in Danville, so is ideal if you are looking for San Ramon preschools options. There are eight classrooms, each containing sequenced and high quality Montessori materials for the children to explore. Learn And Play Montessori in Danville caters for children from the age of 18 months up to six years old and is open early in the morning until early evening, so is perfect for busy commuters to drop their child off on the way to work and collect him on the way home again. Parents have the option to choose from part time, full time, and after school child care programs.
Children Learn By Doing
The Montessori approach is based on the premise that children learn best when in an environment that respects their individual unique capabilities. Every classroom is packed with Montessori materials and each child is free to wander round and find those which interest him, take them, and find out more about them. Rather than sitting listening to a teacher talking, the Montessori method allows the child to learn by doing, using all his five senses, and because the child is doing something that interests him, he learns to love learning.
Our curriculum is designed to incorporate activities in areas of practical life, sensorial, math, language, science, geography, music, art, and a second language, which in this case is Spanish which will be of benefit to him throughout his life in the Bay Area. The teacher watches what the child is doing and his progress with each different subject and introduces him to new materials as and when he is ready to progress further. There is no sense of competition, and no requirement attain any particular target.
If you are looking for your San Ramon preschools options, we would urge you to visit Learn And Play Montessori in Danville and see for yourself how well the children are progressing. We welcome parents at any time between 9.00 am and 5.00 pm for a school tour.