Having a new baby is exciting! The day of birth is quite a day – big enough to get the name, "birthday". But you know what might be just as big a day? The day of daycare. That is the first day that baby is big enough to "go to school" – even if that school is just a daycare. That allows Mommy or Daddy (or both) to go back to work and also to get some much-needed rest.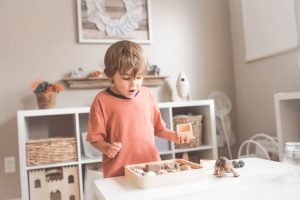 And where is the best daycare in Dublin, California? It's at Learn And Play Montessori. We have the best, fully licensed, professional daycare in Dublin and the surrounding area, and what's more, we are open at 7.00 am and we don't close until 6.30 pm. What that means for you as a working parent, or parents, is that we are here for you whatever your working hours are. You can drop your child off on the way to work, and we'll still be here for you when it's time to collect him or her and go back home.
Another piece of good news is that we are based in Silvergate Drive, and it's only just off the I-680, so if you have to commute up towards Danville or Walnut Creek, or the other way to Pleasanton and down to Fremont or beyond, it only takes a few minutes to drop your child off on the way at the best daycare in Dublin, California.
Better Still, We Use The Montessori Method
Better still, we use the Montessori method of learning, which we believe to be the best possible way that any child can learn because it very quickly gets them to love to learn for the sake of learning. The Montessori method inspires children to learn and explore because they are free to learn about things which interest them rather than sitting listening to a teacher talking. So, when you are talking about daycare in Dublin, California, you are getting your child off to the perfect start in their school life for the years ahead.
As your child gets to preschool age, they are then able to choose from all sorts of Montessori materials in our classrooms and find things which interest them. So, they start to learn because they want to.
It is worth noting that research shows that kids who attend quality preschool may have higher math and reading skills, are better prepared for kindergarten, behave better in class, and are more likely to graduate from high school and attend college.
That means that by sending your child to our daycare you are setting them off on the perfect road for the learning years ahead.