Dublin California parents want the best kindergarten for their children. As Dubliners get back to work, however, there is a scramble to find Montessori kindergartens. Many have closed. Unfortunately, the public schools are in a bit of a chaotic mess. Parents do not seem to know whether they are coming or going.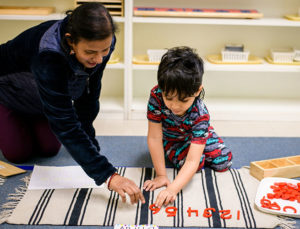 If you are looking for a Montessori kindergarten in Dublin, then at Learn And Play Montessori we are open for children aged from two to six. We are at 11900 Silvergate Drive, so convenient to the I-680 and the I-580. If you live in Pleasanton, or San Ramon, Livermore, or even Castro Valley, we are an easy drive away. Our Montessori kindergarten in Dublin is open from 7.00 am until 6.30 pm, so if you are a working parent, we are convenient for you. You can drop your child off on the way to work and collect him or her on the way home again.
However, as a result of Covid-19 we have also expanded into online Montessori learning. Parents today want the best for their kids, and that holds even though they may not be able to get to Dublin easily. Our online programs are available to parents not just in the Bay Area but anywhere else as well. Our virtual learning is presented to children in small groups and the programs closely follow the Montessori education principles.
Montessori Programs Available On Zoom And Facebook Live
We have Montessori kindergarten programs available on Zoom each day and also on Facebook Live. Your child will learn math, science, language, practical life, sensorial life, visual arts, movement arts, music, history, geography, and Spanish as a second language. The daily Facebook Live sessions are split into groups by age and all of them are recorded. This means that if your child is unable to attend a particular session it will be available immediately on the Videos tab on our Facebook page. All of our past videos are available here, so we have an ever-growing library for your child to tap into.
We also have a YouTube channel which includes a lot of recorded videos as well, including song videos. Check out our online learning page to learn about how we are deploying virtual Montessori kindergarten and preschool programs.
For parents who want face-to-face learning for their child in the traditional Montessori way, our Dublin campus has five large classrooms which are filled with sequenced Montessori materials of the highest quality from which each child can choose. Because the child chooses what to learn about, it will be something that he finds interesting and this means that he will quickly grow to love learning for the sake of learning. This is something that will be of benefit for his whole life.
To find out more about our Dublin campus, we welcome all parents to visit and take a school tour.