Finding the best preschool in Fremont, CA, is a moving target. First, the city is quite large, especially north to south, so you want the school near to you. Second, with the pandemic, you want a school that has options such as in person, blended, and virtual preschool learning.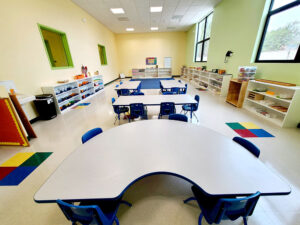 Third, you want a school that has a methodology that works for you. At Learn And Play Montessori we use the Montessori method which is the teaching style that empowers your child to learn to love learning.
The way that this works is that we have five campuses in Fremont – in Niles, Maple, Peralta, South Fremont, and Irvington, so there is sure to be one near to your home and/or work. All of our campuses have large, bright classrooms, many with extended windows in order to gain as much natural light as possible.
Every classroom is filled with Montessori materials of the highest quality, and every child is free to examine and explore them and find something that catches his or her eye. Then the child can take it away and learn about it. So the child is learning about something that he finds interesting, and as a result he very quickly learns to love learning for the sake of learning. It's a never-ending quest.
No Time Limit
Furthermore, there is no time limit. Some children simply learn faster than others, so the teachers watch each child and when the time is right will introduce him or her to further materials. Quick learners are not held back, and the slower ones can just take their time. That is just one reason why we think that Learn And Play Montessori is the best preschool in Fremont, CA.
However, we have gone one further. With the onset of the pandemic it became crystal clear that we need to produce online schooling for those who were unable to come on to campus, so we have developed a complete virtual preschool so that your child can learn the Montessori way from home. Obviously, it is not exactly the same as the in person teaching that we have, but we have incorporated all of the Montessori principles This has the added advantage that you can now have your child enrolled at Learn And Play Montessori even if you don't live in Fremont or the East Bay Area.
Better still, as the best preschool in Fremont, CA, we are now able to let your child have a blend of schooling to fit around your life and work hours. So he or she can come into the campus for part of the time, and work from home for the rest. Our children are loving it – and so are our parents.