If Maria Montessori were alive today, what would she think? We think she'd be the go-getter she was when she lived, and she would radically embrace the new online learning – with gusto – with ways to help kids keep learning. We use her spirit as we teach online and hope she looks down on us from heaven.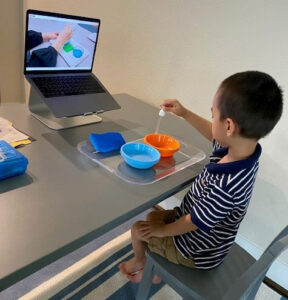 Let's face it: Covid-19 has brought big changes to the way that we live, and while we will get back to normal in the months or years ahead, some of those changes are going to stick. One of those changes is that because we have the internet, we have found that there are lots of things that we can do online.
People are working from home and will continue to do so. That means that there will be less traffic on the roads because there will be less commuting. Online shopping has increased exponentially, and many large chain stores are closing. Those sorts of changes are here to stay. (As an aside, can you imagine if this had happened in the 1970's before we had the internet? It doesn't bear thinking about).
At Learn And Play Montessori we now provide you with Montessori programs online too. People who are now working from home can have their preschoolers and kindergarteners learning what they used to learn in the classroom online instead.
Online Programs Available For Children From 18 Months To Six.
Our Montessori programs online are all Montessori-inspired – of course – and are available for children from the age of 18 months to six. For the younger children from 18 months to three there are no Zoom sessions, but for the older children we have daily Zoom sessions in one-hour slots from Monday to Friday. These sessions are limited to 12 children each and run for an hour five times a day. Let us know which session fits in with your day and we will do our best to ensure that your child has the one which suits you.
Our Montessori programs online include daily Facebook Live sessions which are separated into age groups and run for 30 – 45 minutes. Even better is the fact that if your child cannot attend a session for any reason, all of them are recorded and posted under the Videos tab on our Facebook page, so they can be watched at any time. All past videos and presentations are posted here as well.
Worksheet assignments are posted on our parent portal at the beginning of each week along with the weekly agenda and list of materials needed.
At Learn And Play Montessori all of our campuses in the East Bay Area are open and running. This means that if you wish you can still bring your child to school each day. Alternatively, using our blended program, your child can work online part-time and in school as well.