OK parents. You've gone virtual with your preschool. Now, you need to brainstorm preschool activities for your children. Your child deserves the best, and that is Montessori, which is why at Learn And Play Montessori we have developed a complete suite of online virtual preschool activities for preschoolers at home.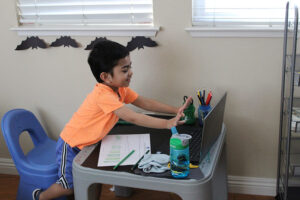 Certainly, we still have our seven campuses in the East Bay Area – no less than five in Fremont and one each in Dublin and Danville – and all parents are welcome to bring their child on to campus full time or part time. However, if you are homeschooling your child, our virtual preschool activities will be of great benefit. There is another big benefit with our online classes too, and that is that they are available to children from anywhere, not just in the East Bay Area. We now have preschoolers across the country, and some even further afield, whose parents have been recommended to us.
Some Children Learn Faster Than Others
It is a simple fact of life that some children learn faster than others. That is not to say that slower learners are in any way not as "good" as faster ones. In fact, in some cases a slower learner will get to where he or she needs to be faster than a quick learner, because the quicker one may just as quickly forget things and have to go back and cover some of the ground again. But the Montessori method takes account of all this by encouraging the child to learn at his or her own pace. There are no rules which say that the child has to be up to a certain standard within a given timeframe.
The Montessori method also gives the child choices about what he or she wishes to learn. This means that the child can choose something which catches his interest, and this very quickly instils a lifelong love of learning for the simple reason that the child is learning about something he enjoys.
For our virtual preschool activities, parents will receive daily worksheets and weekly Zoom and Facebook materials list via our online portal. Our programs cover the basic STEM courses of science, technology, engineering, and math, as well as language, geography, music, art, movement, Spanish, and story time. All of our online classes are recorded and listed on Facebook so that children can watch them at any time that is convenient to you and can also go back and watch previous classes that have been recorded.
Parents can find out more by clicking on the Contact Us/Inquire link at the top of the page.