San Ramon, California – October 30, 2018. Learn and Play Montessori, the East Bay leader in providing Montessori-based preschool education with locations in Fremont, Danville, and Dublin, is proud to announce a new blog post on how the best preschool in San Ramon might be "just up the road" in Danville.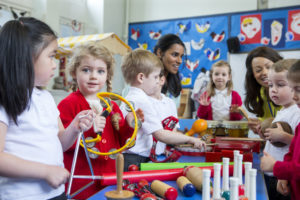 The post helps parents realize that they might want to look outside of San Ramon to secure the best Montessori education for their children.
"Our preschool may be in Dublin or Danville, but San Ramon parents find it a convenient commute and worth the drive," explained Harpreet Grewal, director of Learn and Play Montessori. "We are proud of the recent Yelp and Google reviews we've received from parents, and proud to help parents realize that the best preschool in San Ramon might be just next door in either Dublin or Danville (or both)."
Interested persons can read the new Learn and Play Montessori blog post at;
https://www.learnandplaymontessori.com/blog/the-best-san-ramon-preschools-arent-in-san-ramon/. Parents searching for a top San Ramon Preschool could find the right fit up the I-680 freeway in Danville or Dublin. A Montessori Method in a clean and safe environment for daycare, preschool, and Kindergarten could be the answer. Learn and Play is steadily accumulating positive reviews on Google at https://goo.gl/f86ibd and Yelp at https://www.yelp.com/biz/learn-and-play-montessori-school-danville. Those looking for a Danville-specific page can check out the website.
THE BEST SAN RAMON PRESCHOOL IS A HOP, SKIP AND JUMP AWAY ON THE I-680
Here is background on this release. Bay Area parents in specific cities may struggle to find the best preschool for an active child. A robust teaching program mixed with creative play and learning could be the expectation. Spotless rooms, a wide selection of toys and ample outdoor time to explore nature could be another demand. If a parent cannot find an appropriate daycare down the street, it may be worth a short commute. Ironically, the best San Ramon preschool might be up the road in Danville or Dublin.
Parents searching for high-quality child care in a loving learning environment may need to search outside a specific city, for instance. A top San Ramon preschool can be found nearby up the I-680 freeway. Parents of young children have posted five-star reviews for Dublin and Danville preschools. Loving staff in a Montessori program might be the proper fit for a San Ramon family. For these reasons. Learn and Play Montessori has announced a new blog post about convenient commutes and good choices.
ABOUT LEARN AND PLAY MONTESSORI
Learn and Play Montessori aims to be one of the best Montessori schools in the greater San Francisco Bay Area. Whether parents are looking for Montessori preschools in San Ramon, Danville, Walnut Creek daycare or a top-rated Montessori School in Dublin / San Ramon, Learn and Play has a campus for their child or children. All schools use the famed Montessori method, offering programs from childcare to daycare, preschool to kindergarten, in not only Danville, Fremont, Dublin or San Ramon but also in nearby towns such as Alamo, Blackhawk, Diablo or San Ramon on the I-680 corridor as well as Walnut Creek.
Learn and Play Montessori
Media Relations
https://www.learnandplaymontessori.com/