Fremont is a city of complex diversity, with many ethnic groups, religions, and cultures. That's what makes it such a great city! Add to this the diversity in educational options, both private and public.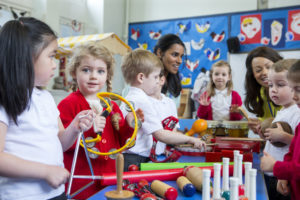 We believe that the private options are far superior to the public ones because they give you freedom of choice. In fact, we're so adamant that we have FOUR – count them – FOUR preschools in Fremont, and they're considered FOUR of the best preschools in Fremont, California.
With the public schools you don't get any choice. They are what they are, and they teach in the same fashion wherever you go.
When you look at the private sector you have freedom of choice, and you obviously want the best upbringing for your child. So you can "shop around" for want of a better phrase. Within the private sector there are a number of choices, but we believe that the best without doubt are the Fremont, CA, Montessori schools. With Learn And Play Montessori School you have a choice of four locations in Fremont, so there is bound to be one of our preschools near you.
Google "Montessori Method"
If you haven't much knowledge of the Montessori Method of teaching in our Fremont, CA, Montessori schools, it is worth Googling "Montessori Method" and you will see how different this form of upbringing is. In brief, the Montessori Method gives your child choices. Maria Montessori believed, rightly, over 100 years ago that every child is different and has different interests. If you think about it, that is absolutely true. You might love to watch baseball where I might hate it. I might love gardening and you might hate that. We are all different, and it would be something of a shock if we were not.
Our interests are going to be different from the day we were born because we inherit certain genes, and we grow up in completely different environments. You might be very friendly with your neighbors and have some common interests, but you are by no means the same. Neither is your child and your neighbor's child.
The Montessori Method gives your child choices. Within certain limits, your child is free to explore on its own in the classroom and find things which interest him or her and learn about them. This makes learning so much easier because your child gets to love the process of learning. Think about this: if you suddenly develop an interest in gardening you will be keen to know how to grow plants, how to make compost, the names of different plants, how to grow vegetables, the different requirements of certain flowers – the list goes on. But you are keen to learn because you WANT to learn!
This is how the Montessori Method works. Our children learn faster because they want to. So if you are looking at Fremont, CA, Montessori schools, come and talk to us and we will show you what makes our children tick. We have Fremont preschool locations in Niles, Peralty, Maple, and Irvington, so we're convenient around the city.