Preschool means exactly what it says on the tin: it is before school, whether you call that big school, proper school, or anything else. It is the very first step on the road to learning all the things that will eventually turn a child into a responsible citizen.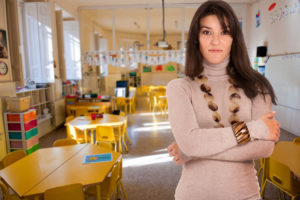 It follows that, as a parent, your choice of preschool is critical. It simply has to be one which sets your child off on the right path. We're fortunate here in the East Bay cities of Fremont, Newark, Union City and Dublin to have many best-in-class preschools to choose from.
Now there is a choice of public preschools and private ones. Public preschools are actually very attractive to many parents for the simple reason that there is no cost involved. They're free. However, that is also a big disadvantage. One of the disadvantages of free public preschools is that they operate on very restricted hours. The old expression "time is money" comes to mind. Providing long hours means providing more teachers, and that means there is a much greater cost to the State of California. That is pretty much the only reason that public preschools don't open for longer.
Some Public Preschools Are Very Good, But Have Restricted Hours
Of course, if hours are restricted, so is the ability for your child to learn. He simply can't learn in three hours what he could learn in six. Having said that, some of the public preschools are actually very good in what they teach, but the problem is that they don't stay open for long enough. In the summer, they virtually shut down for three months. How much will your child learn if he is not at school for all those weeks? Probably not an awful lot. And you also have to find someone to look after him for all that time if you are a working parent.
This is why at Learn And Play Montessori we believe that our methods are so much better. We open at 7.00 am and stay open until 6.30 pm, five days a week, and, with the exception of public holidays, we are open all year round. That gives your child so many more opportunities to learn. We also have six schools in the East Bay area – four in Fremont, one in Dublin, and one in Danville – so wherever you are we are convenient. We're fantastic for commuters from Pleasanton or San Ramon, as well.
Of course, we also use the Montessori method which is based on the fact that every child is unique with his or her own capabilities, beliefs, and wishes, and those should be respected.
If you are not aware of how the Montessori method works, we invite you to come into our nearest school for a tour in order to see how the method works and just how well our children are learning.