It's frequently said children are "little sponges" and will quickly absorb whatever they are exposed to. We agree. Like the food we eat and the air we breathe, the results of what we take in will eventually reveal themselves – and that includes early childhood education.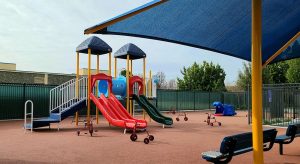 Bay Area parents know this, and that's why choosing the right preschool is very important to them. They want to know are daycare facilities clean and bright? Will preschool staff be warm and attentive? Will they learn their ABCs and numbers? How about art, play, and outdoor time? When parents focus on finding the best early childhood education in Fremont, CA, they look at everything.
We agree choosing a good daycare, preschool, and/or kindergarten is a big decision. It can impact a child's passion for life-long learning. And while parents want the best for their children, location, hours, and cost can prove challenging. Yet those concerns are generally not #1. Most importantly, parents want to understand the teaching style; will it provide a first-rate learning environment for developing minds ready to soak up the information? We are eager to share the value of our tried-and-true Montessori Method and are prepared to answer any questions!
Our goal is to help build children's confidence in learning and exploring. A confident child can handle focused, independent study and group activities. These skills support children in STEM studies and other subjects later in school. That's why our sparkling clean classrooms are filled with colorful, enticing blocks, puzzles, and games to explore. And our preschool teachers encourage young minds to push themselves further whether it's stacking blocks or working on a simple science project. Once a parent decides we are the best choice to support and advance learning skills; they may look at the other items on their checklist such as the following:
Question: Is there a Montessori preschool near me?
Answer: Our Bay Area Montessori schools are in, or close to, many neighborhoods, including the following: Milpitas, Fremont, Dublin Ranch, Danville, and San Ramon. We have just opened a new "flagship" school in Centerville (Fremont), California. Please check it out and consider booking a "school tour."
Question: What are preschool hours?
Answer: We are sensitive to the needs of busy, commuting parents. We are open for extended hours. We support late drop-off, pick-up, and modified daycare schedules. Check each individual for school hours, and they vary during the holidays.
Question: How much does a Montessori preschool cost?
Answer: Finding affordable preschool programs in the Bay Area may be a challenge to parents. We provide full-time, part-time, and flexible schedules. Online learning is also available. Reach out to us to discuss what's possible.
Summing up –
Parents who've toured our schools may still want to visit "competitors," to ensure they make the right choice for their children. We encourage that because we want the BEST match for parent / child / family and the school. It's essential to research before making a final decision, and that's okay with us. Other preschools in the Bay Area are very nice too. We know the difference lies in our teachers and award-winning curriculum.