The truth is that Blackhawk is not exactly the biggest city in the East Bay – in fact, technically it isn't a city at all, having a population of just 4,000 or so. This means that if you are looking for Blackhawk Montessori programs you are somewhat limited for choice, so you need to spread your wings a little and widen your options.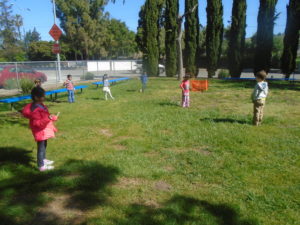 If you want one of the best Blackhawk Montessori programs you need to come to Learn And Play Montessori in Danville. After all, it's only a very short drive, and here you will find the best Montessori school for your child. We have five other preschools in the East Bay area – four in Fremont and one in Dublin – and Danville is our latest enterprise. There are eight classrooms, each of which has been designed for the express purpose of learning the Montessori way.
We are at 730 San Ramon Blvd in Danville and the building is Tudor cottage style with large classrooms that have extended windows, because we believe that it is easier to learn when you have plenty of space and plenty of natural light. There is also a very large playground which gives the children the chance to explore the outside world.
Natural Materials and a Fantastic Danville, California, Campus
Each classroom has a wide range of specially designed Montessori materials which, as far as possible, are natural materials, because we don't use plastic if we can possibly avoid it. Each child in the Montessori system is allowed to make his own choices about what to learn and how to learn it. So he can select from the available materials and explore and experiment to his heart's content. This very quickly results in a child learning because he is enjoying what he is doing, rather than having to sit and listen to a teacher talking.
It follows that when you enjoy what you are doing, you simply want to do more of it. That applies to all of us. Our children learn by doing, and using all their five senses rather than just their ears. Montessori is an educational approach that believes that children learn best within an environment that respects and nurtures their individual and unique capabilities, and Learn And Play Montessori School in Danville provides them with exactly that. As your child progresses, his teachers will open his eyes to further materials to allow him to make further explorations.
So for the best Blackhawk Montessori programs you need to look beyond your own town. Come over to Danville and see what we do and how our children react and love to learn. We are sure that when you have paid a visit you will want your child to learn with us too.