There's that Beatles song, "With a little help from my friends," which was a big hit in the 1960s. Well, if you're "homeschooling" your child these days, you need a little help from your friends with your curriculum and teaching strategies.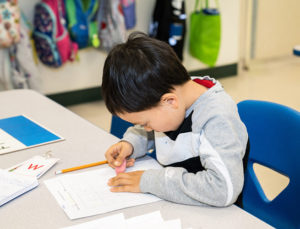 At Learn And Play Montessori we can help you with Montessori homeschooling of your kindergartener or preschooler.
We are offering remote learning services to parents with children from 18 months to 6 years of age. Our remote learning utilizes a Montessori-inspired curriculum combined with engaging activities including science experiments, number literacy, character education, phonemic awareness, and kindergarten and 1st-grade readiness, which is the same as we provide in our face-to-face groups.
Each week we send parents a weekly agenda with a list of required materials and worksheets, which cover the subjects taught in our seven campuses in the East Bay area. These are sensorial, mathematics, language, science, geography, Spanish, music, art, movement, and storytime. We have a live Facebook page that is updated daily, and our Montessori homeschooling includes a YouTube Channel which contains a video archive and free online Montessori materials.
Facebook Live
Our Facebook Live provides 30 – 45 minutes each day of live presentations for each age group as follows:
18 Months to 3 Years: 10:00AM PST
3 Years to 4.5 Years: 10:45AM PST
4.5 Years to 6 years: 11:30AM PST
We also record these videos so that your child can watch them later if the above times are not convenient, and these are posted after each live session. In addition, we have daily ZOOM sessions which are limited to 12 children per class. We do our very best to accommodate you at a time that is suitable for you, although spaces are filled on a first-come, first-served basis. Times are as follows:
Session 1 – Monday to Friday – 9:00AM PST to 10:00AM PST
Session 2 – Monday to Friday – 10:05AM PST to 11:05AM PST
Session 3 – Monday to Friday – 1:00PM PST to 2:00PM PST
Session 4 – Monday to Friday – 2:05PM PST to 3:05PM PST
Session 5 – Monday to Friday – 3:10PM PST to 4:10PM PST
Every week we upload worksheets to our Montessori homeschooling parent portal at the beginning of the week and this includes the weekly materials and agenda. Membership is on a month to month rolling basis, so each month we will send a new password via email to parents enrolled for the following month. This also gives you the ability to opt-out at any time if you wish to do so.
Of course, it goes without saying that all of our campuses in the East Bay are open. This means that you can revert to face-to-face education for your child if you wish, or you may opt for a blended approach. It is entirely up to you.