There is absolutely no doubt that Covid-19 knocked everyone for six, to use the old expression. Everything was turned upside down almost overnight.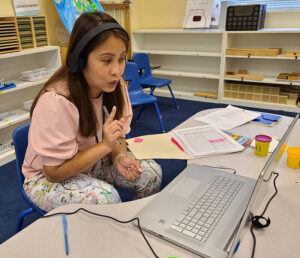 In particular, this applied to preschooling your kids. Suddenly the campuses were all closed down and nobody had any idea what would happen next.
Let's be honest: at Learn And Play Montessori, neither did we. However, what we did understand only too well was that a child's education is critical, and it cannot be allowed to be interrupted. So we spent a lot of time tossing ideas back and forth. We have the Internet, and we have Skype and Google Drive and Zoom, so we can reach out to people in their homes and they can stay in touch with us.
We worked extremely hard over a period of several weeks to devise a program that can be used over the internet by any moms and dads whose child was in shutdown, so that the period away from preschool was as short as possible. We refer to it as a sort of preschool homeschool because you can work with your child in the home at the same time as having him or her attend classes online.
Public School Policies Are Frustrating
There is no shadow of doubt that parents in the public school systems in Fremont, Danville, and Dublin California are frustrated by the "today it's on, tomorrow it's off again" policies that they seem to be adopting. There seems to be no way of knowing when, or if, your child can get back to preschool or kindergarten. And it is critical that your child's education is continued with as little disruption as possible.
That's why we believe that at Learn And Play Montessori we have come up with an answer that works for all parents and their kids, whether they are working parents, working from home, or not working. Our preschool homeschool allows you to have all your child's education while at home or at one of our East Bay campuses. Yes, they are all open and functioning as normal, apart, of course, from social distancing.
But the kids can otherwise carry on as they always did, getting out into our lovely playgrounds at play time, and choosing from the wide range of Montessori materials in the classroom.
It gets better still, because when you enroll your child in Learn And Play Montessori for our preschool homeschool program you can choose to have all your child's schooling at home or you can also choose a blend of both. So your child can come on to the campus on some days, and learn from home on others.
We are here for you and your child, and above all we make it possible for your child's education to continue as it should, albeit in a somewhat different format.