Finding childcare or daycare in Fremont is not difficult. If you Google "daycare in Fremont, CA" you will come up with a shade short of half a million results. Learn And Play Montessori Schools is on the first page, incidentally.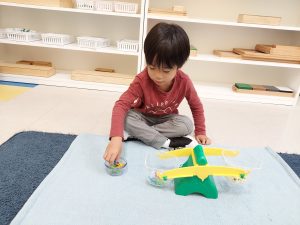 But you want the best private childcare in Fremont, CA, for your child. How do you know? Although there are a lot of opportunities for daycare/childcare / toddler care, or whatever else you want to call it, are all those people fully qualified, and do they have all of the appropriate licenses?
At Learn and Play Montessori Schools, we do have all of the required licenses from the State of California, County of Alameda, and the City of Fremont, so you can be sure that your child is in safe hands, and you are getting the best private childcare in Fremont, CA.
Our Montessori toddler program is designed so that your child can, above all, have fun, while at the same time taking the first steps on the long road to his or her education. Our toddler classroom environment is full of the finest quality Montessori materials from which, in line with the Montessori principles, each child can choose something which he or she finds of interest.
Every Child Is Different
Every child is different, but each deserves respect and compassion, and the Montessori method recognizes this. By allowing the child to choose what to play with and explore, it enables him or her to be doing something which they find interesting, and therefore will want to learn more about it. It starts the children off on the right road because it automatically puts them in a situation where they actually learn to love learning about something.
Just think about that. The Montessori method works so well because it gets the children excited about learning and finding out about something rather than the old-fashioned way of sitting down listening to a teacher talking about something that they may actually find boring. Once a child finds learning and exploring exciting, he / she will want to do more of it because they find the process of learning fun!
And it all starts with the best private childcare in Fremont, CA. Our toddler classrooms promote language, the arts, math, science, and fine and gross motor activities. We take great care to work with each child as his / her language skills develop and help them with the materials in which they are interested.
However, we don't expect you to believe it just because we say so. We have six campuses in Fremont as well as in Dublin and Danville, and a new one opening shortly in Milpitas and also Dublin Ranch. So, wherever you live, please drop by and take a look at our children for yourself so that you can see what we mean.