Many families have had their children full time, 24/7, during the shutdown. This has often been both a wonderful and, at the same time, a very trying period for families.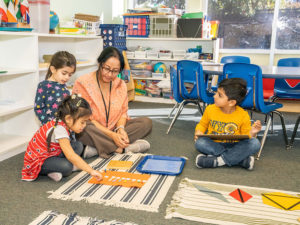 However, many families are now looking to return to work and need Dublin, CA, childcare. In fact, many are looking for Montessori childcare so that their children can stay on level, catch up, or even get ahead. Our program uses the Montessori method at all ages, and we will be re-opening as quickly as the rules allow. If you are looking for Dublin, CA, childcare, click on the Add To Wait List link above and fill in your details so that as soon as we know our re-opening date we can keep you in the loop. Then we will be delighted to invite you to come in for a school tour at a time that suits you.
Ideally Situated For The I-580 And I-680 Corridor
Our Dublin campus is ideally situated for parents from San Ramon and Pleasanton also, as it connects easily to the I-580 and I-680, so whichever way you commute it is easy to drop your child off and collect again after work. We cater for children from the age of 2 up to 6 and we open at 7.00 am and stay open until 6.00 pm so we are convenient whatever your work hours are. The campus has five very large classrooms which have extended windows in order to make use of as much natural light as possible. There is also a secure and gated playground near the back of the school for the children to play in and start to learn about nature.
We use the Montessori method of learning which respects each child as an individual with his or her own abilities, likes, dislikes, and more. The children are allowed to roam the whole of the classroom looking at the wide range of Montessori materials that are available until they find something which sparks their interest. They can then take it away, play with it, explore it, and find out about it all in their own time. There is no rush because there is no time limit to "finish" something. Some children are quick learners and others are slower, so they are all allowed to proceed at their own pace.
Our teachers keep an eye on what each child is doing and when they are ready will introduce the child to further materials. The beauty of this is that the children are learning because they WANT to learn and find out more about whatever it is they are exploring.
We can't wait to tell you more about the Montessori method and our Dublin, CA, childcare, and show you around our campus. At the moment, of course, we are still closed, but if you click on the Add To Wait List link at the top of the page and fill in your details we will contact you as soon as we re-open so that you can come over for a school tour.