It's a simple fact of life here in the San Francisco Bay Area that many parents have to work in order to make ends meet. Years ago, it was the man who went out and earned the money, while the mom stayed at home and looked after the kids and kept the house, and it worked very well.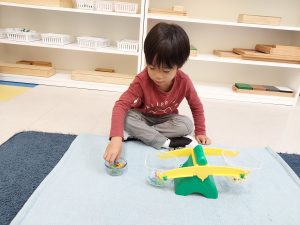 However, things have changed over time, so now it is the norm that both parents have to work.
That leaves the issue of what to do with the kids, especially those under three. The answer, of course, is a daycare in Fremont. But there is a daycare and there is daycare. Some parents simply have a relative who can come in to look after the youngsters, which can be good if you don't have to pay them! Others employ a daycare assistant to come to their homes.
However, there is a big disadvantage as far as the children are concerned because while they may be safe at home, a babysitter is only doing the caring job – not teaching the children anything. And the fact is that the sooner a child starts on a steady form of learning, the better. The better that child will do in later life.
We Start Your Child Off On The Right Foot
This is why so many parents today choose to use our daycare at Learn And Play Montessori because we set your child off on the right foot. Yes, our children get to play with toys, of course, but they also start to follow a structured learning path, learning the very basics of the things that they are going to get into more deeply later on. The earlier they start, the better.
There is another very big advantage of our daycare in Fremont, and that is that we are very convenient for you, the parents. Many people have to commute up and down the I-880 and so if they can get daycare near the 880 in Fremont that's even better.
If you need daycare near the 880 in Fremont, then we have campuses in Niles, Peralta, Maple, Irvington, Centerville, and South Fremont. For those of you a bit further away, we have campuses in Danville, Dublin, Dublin Ranch, and Pleasant Hill. In addition, we have a new campus that will open shortly in Milpitas which is perfect for parents who have to head South into Silicon Valley. So, in fact, wherever you live and work in the East Bay Area, we've got you covered.
Furthermore, when you need daycare near the 880 Fremont, our hours are also very convenient because we open at 8.00 am and we remain open until 6.30 pm. What could be better for working parents?