Preschool is a pivotal time in a young child's life. It's a transition from totally being a kid to being a student. And at Learn and Play Montessori preschool, our children learn to love learning for the sake of learning!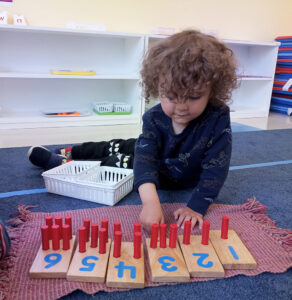 How?
It is because they learn about things that they want to learn about. We regard every child as an individual (of course) and that individual has to be respected. So, at each of our campuses – located in Fremont, Danville, and Dublin California – there are dozens and dozens of different items that a child can play with, explore, learn about, and so on.
But this is not like sitting down and listening to a teacher talking about something that the child may, but then again may not, find interesting.
Each one of our classrooms is light and airy and is filled with Montessori preschool materials of the highest quality from which each child can choose something that he or she finds of interest. So, our children are playing with and exploring something because they want to find out about it and learn about it.
Our Children Tell Us What They Want to Learn About
Can you see the difference? We don't tell the children what to learn about. Rather, they tell us. Our teachers keep an eye on what every child is doing, and then when the time is right will introduce him or her to some further materials. In no time at all, the children are learning because they want to learn, rather than being told to listen to something a teacher is talking about. We also use local opportunities – of which there are a wealth here in the Bay Area, from Quarry Lakes in Fremont to Dublin Hills Regional Open Space to Sycamore Valley in Danville. Nature is a fantastic way to teach learning, including science!
It gets even better because our classes are of mixed age groups. What happens is that very often an older child will see that a younger one is having a problem with something and then show him or her how to do whatever it is that is needed. So, our children learn to become interactive and to help one another. This has the benefit of enhancing their social skills.
In addition, there is no pressure on a child to do something, finish by a certain time, or be the "best", because each of them is working with something different. So, the child will carry on exploring and learning at his or her own pace. There is no doubt that some children simply learn faster than others. That doesn't make the slower ones in some way "inferior".
We now have no less than eight Montessori preschool campuses in the East Bay, in Fremont, Dublin, and Danville, and with another two coming shortly in Dublin Ranch and in Milpitas. It follows that you are never very far from a Learn and Play Montessori campus, and you are welcome to drop by at any time and take a school tour.