Fremont California preschools are "back in session." Especially the private schools. But even the public ones are open, albeit virtually. However, virtual doesn't work for everyone, and at Learn And Play Montessori our goal from the start was to give parents preschool options in Fremont.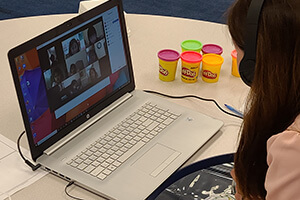 When Covid-19 struck we were as bemused as the next people. Nobody alive today has ever experienced anything like this, and it was difficult to know what to do. After all, we had to close our campuses along with the public schools, and for a short while there was very little going on at all.
However, we are nothing if not creative, and our team spent many days hammering out a solution. Or rather, some solutions. We knew that at some point we would be able to open our campuses again, but we didn't know whether that would be a couple of weeks, a couple of months, or a couple of years. So we had to come up with an answer that would cover all eventualities – and we did. That is why we can now offer all parents preschool options in Fremont.
Your Choices: Online (Virtual), Blended, and Face-to-Face Preschool & Kindergarten
First, we have no less than five campuses in Fremont – in Niles, Peralta, Maple, Irvington, and a new one just opened in South Fremont. And they are all open for face-to-face learning in the same way that they always were. OK, we have had to make some adjustments for social distancing of course, but that aside, your child can roam the classroom and choose from all the Montessori materials as always. He or she can also go outside and play in our beautiful playgrounds.
However, the first option that we came up with was for online Montessori learning. Yes, we have Zoom, YouTube, Google Drive, Skype, and so on, so we realized that we could devise classes for parents who had turned to homeschooling – not necessarily because they wanted to, but because of the circumstances. So we have available ongoing teaching online so that your child doesn't have to leave home, yet can still benefit from the Montessori method of learning if that is your choice. Now your child can either come to one of our campuses for face-to-face learning or learn online.
But perhaps better still, we have produced preschool options in Fremont that give you what some people would call the best of both worlds, and that is a blend of online learning and face-to-face on one of our campuses. The choice is yours. We will even work in tandem with the public schools if you wish, so your child can have virtual sessions at your public school and face-to-face classes with us.
We have tried very hard to give you the benefit of all the options because, as far as we are concerned, your child's education is of paramount importance and has to be continued, regardless of any viruses.