The Montessori method is "hands on." But that doesn't mean you can't do it online. Our online Montessori methods at Learn And Play Montessori are second-to-none and are VERY exciting as we move to the online / virtual world.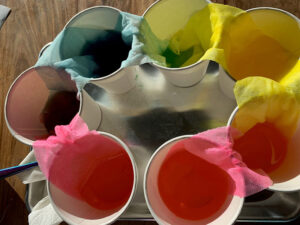 As a result of the pandemic, many parents are now homeschooling their children, but this can cause some major problems. One of the biggest problems is time. If you have a job that you can't do from home, then you still have all the usual hours of commuting and working. You still have a home to run – cooking, cleaning, and all the 101 other jobs that have to be done. But now, you also have to find time, somehow, to homeschool your child as well. Sometimes it seems that there are not enough hours in the day.
Pandemic or no pandemic, you cannot just put a stop to your child's education. OK, a few weeks may not hurt, but when it has been going on this long it is essential to get that education moving again otherwise your child is simply going to fall behind and may never catch up. This is why we have taken the very best of the Montessori principles and made them available to you as Montessori programs online.
Online Montessori Programs For All Ages: Preschool to Kindergarten!
We have created a range of Montessori programs online that covers all age groups from 18 months to six years using Zoom sessions and Facebook Live. The Montessori method is a way of learning that helps the child explore the world at his or her own pace. There is never any time limit by which something "must" be achieved or finished. Some children are quick learners and others are naturally slower, so we put no pressure on them: they learn at the pace that they are comfortable with.
Furthermore, our Montessori programs online let the children learn what they want to learn the way that they want to learn. What this means is that the children very quickly come to love learning because what they are doing is enjoying themselves and enjoying the experience of finding out about something. This is something that will stand them in good stead for the rest of their lives.
With our online Montessori programs your children will learn the basic STEM skills of science, technology, engineering, and math which are the building blocks of success. We also teach art and movement, English, writing skills, geography, and Spanish.
To find out more about our online programs, click on the Online link at the top of the page. Alternatively, you are most welcome to come into any of our East Bay campuses to see what we do for yourself.