If you are looking for the best preschools in Fremont for your child (and what parent wouldn't?) you will be looking for Learn And Play Montessori. Here is the good news: wherever you are in Fremont, we are too! We have campuses in Niles, Maple, Peralta, Irvington, and our latest campus at South Fremont, so wherever you live or work in the city, there is one near you.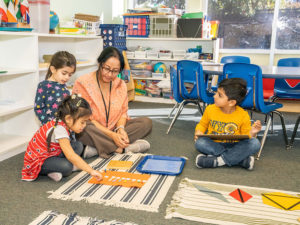 Here is the even better news: after Coronavirus, we are now open for enrollment at all our preschool, childcare, and daycare campuses – and that includes our Dublin and Danville campuses if it should happen that you commute up and down the I-680. We also offer Kindergarten education right here in Dublin, California.
Over the last few weeks, we have put in place some of the strictest measures you can imagine in order to ensure the safety of our children, parents, and teachers. Nothing could be more important at the moment than ensuring everyone is safe, and for that reason, we have been following the guidelines of the Centers for Disease Control and Prevention (CDC), Child Care Licensing Department (CCLD), County Health Department, and other government organizations. Your child will be safe with us.
School Tours Available: Learn about our Preschool
Over the next few weeks, for those looking for the best preschools in Fremont, we have a series of school tours available for parents. You can book a school tour at the preschool of your choice simply by clicking on the Schedule a Tour link at the top of the page. Alternatively, you can call us on the phone if you prefer.
We will show you around the school and explain to you all of the safety precautions that we have put in place, such as keeping each child at a safe distance from the next, checking their temperatures three times a day with a touchless thermometer, parents being required to wear a face mask at drop off and pick up, and a whole lot more.
We realize that these measures are rigid, but trust that you will understand that it is our responsibility – which we take extremely seriously – to ensure the safety of everyone until the time comes when the measures can be relaxed. We all look forward to that time, but it seems certain that it will be some way ahead before a vaccine is developed. In years to come, we will think of Coronavirus in the same way we now think of smallpox which is no longer any sort of problem.
Meanwhile, we have to take care, and at Learn And Play Montessori we are doing just that. Click on the Schedule a Tour link at the top of the page in order to book a tour at your choice of the best preschools in Fremont.