At Learn And Play Montessori, we are great advocates of the Montessori method of learning, as you can imagine. But we use the method in age-appropriate ways in our Fremont Montessori programs. So, a two-year-old will have a different learning experience from a six-year-old, by way of example.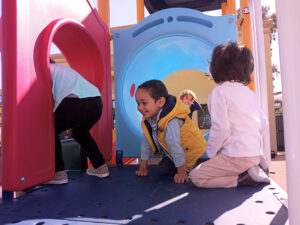 But throughout, our goal is to leverage what Maria Montessori always meant: empowering the child to love learning and letting the child lead.
Our classrooms in all of our campuses are filled with the finest Montessori materials, and every child is allowed to choose what to learn about. They can roam around the classroom looking at all the materials until they find something that catches their interest, and then they can take the material away, play with it, investigate it, see what it does – if indeed it does anything. The result of this is that each child is learning about something that he or she finds interesting, and therefore he or she wants to find out more about it. This automatically leads to learning to love learning for the sake of learning! This is an advantage that will stay with that child for life.
No Element of Competition
Furthermore, with our Fremont Montessori programs, each child – by and large – is learning about something different. This means that there is no element of competition to the learning experience. At the same time, it means that there is no sense of being "better" than the next child. There is also no rush, which is a good thing. This is because different children learn at different speeds. Some children are very quick learners while others are slower. It doesn't mean that the slower learners are not as "good" as the quick ones. Each child can learn at his or her own speed.
In addition, in our Fremont Montessori programs, we have children of different age groups in the same classes. What happens is that very often an older child will help a younger one if he or she is having a problem with something. So now we also have an element of comradeship, with children looking out for one another.
We have campuses in Irvington, Maple, Peralta, Niles, and South Fremont. So wherever you live in the city, there is a Learn and Play Montessori near you. We also have campuses in Dublin and Danville if you live that way, and there is a new campus opening in Milpitas shortly if you commute down south. All our campuses open at 7.00 am and stay open until 6.30 pm, so whatever your working hours are, we are convenient.
In addition, since the arrival of Covid, we also have an online learning option, so we have got you covered whatever your needs are.