On a warm Spring morning in Fremont California, a new preschool was welcomed into the community. Surrounded by friends, parents, and civic leaders, Founders Kiran and Harpreet Grewal did their best to reflect on this particular achievement. "I always thought to myself, I'm always going to stay in the background and stay humble because the teachers do so much more," said co-founder Harpreet Grewal.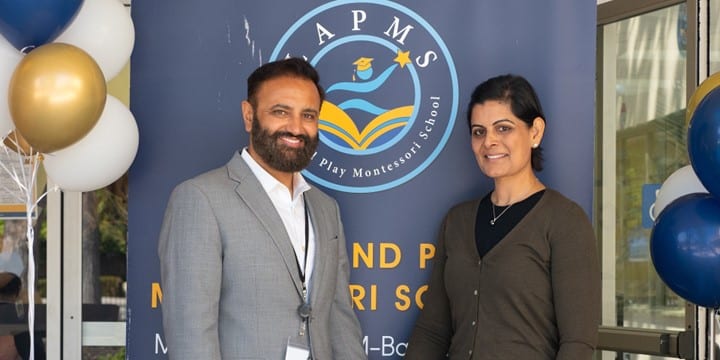 Fifteen years ago as young parents, Kiran Grewal founded Learn and Play Montessori School when they were not able to find a location for their two daughters that met their expectations for quality education. The couple began in a small home serving 12 families in Fremont, CA. With her husband Harpreet's support, dedication, and hard work, the company now serves well over 1,500 families.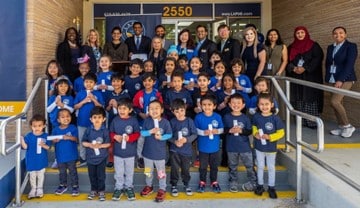 "Fremont is not just where we live, it's where our hearts are," said Kiran standing before a crowd looking very much like a raven-haired Princess Diana in her long skirt and kitten heels. "Fremont is a vibrant and diverse city that values education, innovation, entrepreneurship, and community engagement. We live here, we are raising our children here, we even got married here," she says, breaking into a shy smile.
There is more to this story besides opening their largest campus. A former city courthouse, this now gleaming 15,000 square foot Montessori + STEM state-of-the-art facility can serve children 18 mos-9 years. "It's not just a grand opening. In the past three years we have been through a lot," says Harpreet.
Standing before the crowd in a well-cut gray suit, Harpreet grounds himself with a deep breath as he looks upon the crowd, "I'm feeling so blessed and so amazed. I never thought we were ever going to celebrate a grand opening" he says. "The story is very simple. Life throws you curveballs and what you do with them is up to you. In the past three years, we have been through a lot. In March 2020, (when Covid hit) all of our schools were not only full but waitlisted. In 2021, my wife was diagnosed with very aggressive breast cancer."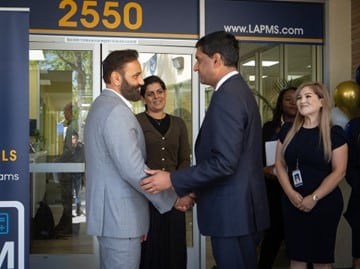 "I thought maybe I'm done with all the struggles. With all the delays and cost overruns of the project I thought, is it really worth it to do this," Harpreet asks and pauses. "But every time I went to the schools, I could see the hard work and dedication of our teachers. I could see the smiles on the children's faces. They were wearing masks, but you could see how happy they were to be in the schools. I could see how happy the teachers were to serve this community. I could see how happy the directors are to support the teachers. So, it's not just about my struggles, we all struggle. But there was a higher purpose to serve the community and to serve the kids."
"For the past 15 years, we have served the community and stayed in the background, but we should come out and tell everybody that, yes we can do it," Harpreet says enthusiastically to the crowd. "Yes, we provide a really good education. Yes, our curriculum is strong. Yes, we open really big facilities and yes, we service the community. And here we are today celebrating the success, marking the end of Covid, and celebrating the quality of education that we provide is unmatched, and yes, this company is going to go places."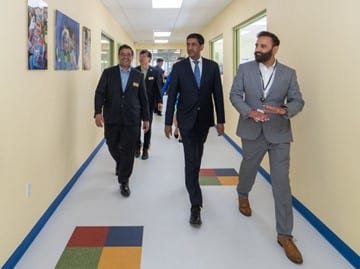 One of the most endearing qualities about Harpreet is his honest vulnerability. Surrounding himself with mentors to help guide him, he's unashamed in his openness to ask friends and mentors for help and support. With the emotion of the moment welling up inside, Harpreet looks into the crowd and spots his friend and mentor, Congressman Ro Khanna. "Ro, I don't know if you remember this, but when I was at my very bottom, I called you and you were there for me. Just by you talking to me, that day meant the whole world to me. I know we have had powerful discussions and have dissected a lot, but the fact that you are here really means the world to me. With your support and everybody's blessings, we are here."
Ro too remembered that call for support, "What a story of resilience. I remember when Harpreet called me years ago, Harpreet is a friend not just in politics, about what his family was going through. He confided about his situation with Kiran, compounded by Covid and the economic difficulties any center had with Covid. To see the family make it, to see the centers make it, that is a story that Fremont and our community should be proud of. It gives us all hope."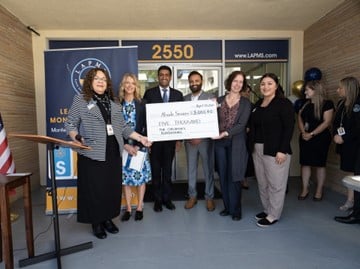 After presenting Abode Services with a donation to help upgrade an outside play structure and learning center at a shelter for people with children, Harpreet makes his way back up to the podium.
"This city is our home. This city has given us a lot," he continues. "Our kids go to school here, we were married here, we live here. And as we expand, our goal is that any child that walks in the door of our school should never be asked how much their parents make or if they can afford it. A private and public partnership is the way to go.
"Public schools should not be in the business of hurting private schools. The quality of education that we offer is unparalleled to any institution out there.
"We are combining Montessori + STEM, we are giving back to society, we are giving back to the cities we are in, and we appreciate all the support we have received from the city and from our government."
Learn and Play Montessori School is posed to be the next big player in quality early childhood education. They are actively acquiring schools from private owners ready to retire as well as building new sites across the Bay Area and beyond. With a renewed sense of purpose, Harpreet smiles softly and simply states, "The world is at our fingertips."
To learn more about Learn and Play Montessori School or to enroll your child, please visit us at www.lapms.com.