Peralta Campus | Fremont Montessori Preschool
Located in the center of the city, this beautiful Fremont preschool serves children ages 2 years to 6 years old and offers a year-round Preschool Montessori Program. This Fremont campus offers 6 classrooms and an intriguing playground. These classrooms are bright and meticulous with easy accessible shelves filled with quality Preschool Montessori materials that developmentally encourage exploration and learning. Whether you're looking for just the best preschool in Fremont, or a Montessori-based daycare, childcare, preschool, or kindergarten, reach out to our friendly staff and come in for a school tour.
The years between two and six are a developmental period when children are able to absorb information nearly effortlessly from the environment around them. Our Montessori Preschool classrooms are designed to be hands-on. These classrooms are carefully prepared, calm and beautiful spaces for children. The Montessori approach encourages children to develop concentration and an attention to detail, which helps them throughout their lifetimes. In our classrooms Spanish, art, music, dance and movement activities are integrated into the classroom curriculum.
A Best-in-Class Preschool in Fremont, California
Our Kindergartners learn to have greater independence and freedom, and they love it. In this year, students begin to reach internal mastery of their work and when they enter 1st grade with they have a strong set of academic skills; but, far more importantly they have the attitude that learning is fun, exciting and boundless. The curriculum provides more in-depth lessons for math, reading, and language, as well as science, geography and cultural studies. They also have the opportunity to be leaders in the classroom, mentoring their peers by reading, and teaching concepts. Children also experience enrichment activities such as art, music, Spanish, oral presentations, stage performance, and movement.
Parents choose our school because our Montessori Certified and Trained Teachers are committed to the individual growth of every student. Our teachers work closely with each family to ensure a positive, caring and successful school experience for everyone.
Preschool Childcare Center License #013422411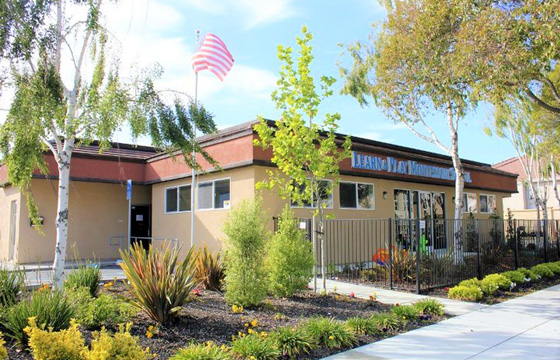 I have had the pleasure of working for LAPMS Peralta branch. The school is awesome not only for kids but also for its teachers. Ms. Rania along with Ms. Mel are always supportive and help the teachers have a wonderful experience. Because of their help, the school runs smoothly everyday and the teachers are happy to come to work. Peralta has a true montessori – open classrooms which makes the entire school feel like one big classroom. All the teachers work in unison and are always looking out for the children. LAPMS has an open door policy not only for the parents but also for teachers. Thanks to LAPMS, I have some wonderful friends who are very dear to me!
Ranjana S. – Fremont, CA

We love the school. All the staff right from the Director Ms.Rania to Ms.Mel to all the teachers without an exception have literally been like family and taken personal interest in caring for not only my son but all the children. I have heard nothing but positive feedback from every parent we've been friends with. Be it the quality of education to the personal care to the campus is fantastic. My Son has been here since the beginning up until pre-k and it's bittersweet to graduate and leave. LAPMS has been a beautiful beginning to school life and we wish the institution great success for the future.
Suman N. – Castro Valley, CA

This school was recommended by a friend. The school is beautiful! The staff is very friendly and welcoming. The director who gave me the tour was really nice. She answered all 50000 of my questions and didn't seem bothered by it. She did not rush me and explained the entire process. The children are so well behaved! I am really impressed by the Montessori and I look forward to enrolling my child when we complete our move to the east bay in the near future.
Sunny Z. – Embarcadero, San Francisco, CA

My daughter is a student of Peralta campus. I have only good things to say about the school. The teachers are amazing, ever smiling ,caring and always available to answer any queries. My lil one hates to miss school. She happily goes in the morning and comes with a smile in the evening. I have seen her going from being a shy person to very social and chirpy. It is very safe environment for the kids and they take care great care in maintaining hygiene. I would definitely recommend this place.
Vishlesha P. – Fremont, CA

My kids have been going to LAPMS Peralta branch for almost and year now. Since joining they have moved couple of classes and now are in room 3. All teachers at the school are friendly and always smiling. School's curriculum is well balanced. They always try to impart good manners to kids. Thanks to Miss Ranjana and other teachers for being loving and caring. Thanks to Ms. Mirela for keeping us well informed. Thanks to Miss Rania (the director) for managing the school well and doing latest improvements to the school (new playground and new flooring).
Sravanthi R. – Fremont, CA

Our boys have been at Learn and Play Peralta for over 3 years now. The teachers and staff are amazing and my boys have grown so much. It is apparent that they truly care for the kiddos and know them well. I also appreciate being kept in the loop with their open communication – praises and areas to work on.
Tristan L. – Fremont, CA

My daughter has been coming here since Classroom 1, and she has learned so much while she has been here. Miss Mirela, Miss Rania, and all the staff are wonderful. They truly care about the kids and their well being. Every year, they do upgrades to the Montessori, from changing all the carpets to hard flooring, to revamping the entire playground. We truly appreciate their time and efforts made towards the kids. My daughter has learned so so much academically, and this will definitely benefit her when she goes into Kindergarten.
Brandon W. – Milpitas, CA

I am very glad that I chosen Learn&play Montessori for my both kids. They are more confident,socially doing very well,disciplined,creative .I always like there teaching pattern with many practical ways.They put extra effort for fine motor skills development.They teach geography,science & other subjects with practical experiences. thanks for nurturing my daughter & son!
Shweta S. – Fremont, CA

It's been 3 years since my son has been going to LAPMS at Peralta and we couldn't be happier. He comes back home happy and positive and feels appreciated by his teachers and peers. We love our New Director Ms Rania as much as our previous director, Ms. Mel who is a sweetheart and all the new teachers. The campus has been renovated and looks spectacular. It will be bitter sweet when we move out to elementary school.
Suman N. – Fremont, CA

My son studies at Learn and Play for 1 year. I am sure that it was a great choice we've made for him. Ben is always learning and improving himself. Besides the learning, I really like the way the teachers and staff treat the students. They care about them and they are always gentle and kind.
Mirella M. – Fremont, CA

When I first saw how organized the school was I thought it might be too structured for my daughter. Since that time I have learned that the method of organization is lovingly applied and is now crossing over to my daughter's life skills. The organization is essential to a healthy learning environment. I am so impressed with the loving staff and my daughter's growth in mathematics and her letters. This is the exact opposite to the last preschool which was play based and quite honestly…Mayhem!
Loan H. – Santa Clara

I am glad that, we chose Learn and Play Montessori for my son. He started from room #2 and progressed to room #5. He has blossomed into a social, interactive and curious kid in this period. I really thank Ms. Rania and her team members for all the guidance through these years.
Debapriya S. – Fremont, CA

We are so glad that we choose LAPMS Peralta campus for our daughter. She loves this school and so do we. All the teachers are very friendly and encouraging. Every kid gets good attention from the teachers. Teachers give updates about the kids on a regular basis and keep us updated about their progress. We definitely recommend this school.
Ravhi H. – Fremont, CA

My daughter is going to this school for almost three years now. She enjoys her time at school. She loves the food. All the teachers are very kind and supportive. I would like to thank you all the teachers especially Ms Rania, Ms Mel, Ms Yara and Ms Amruta. I highly recommend this school.
Shobhana M. – Fremont, CA

We are very happy with LAPMS. Both our kids went to LAPMS and they have learnt a lot from school. School provides good environment which is evident with my kids' interest in attending school everyday. Teachers have been good role model.
Saroj K. – Fremont, CA

My son goes to LAPMS Peralta branch from more than year now. This is AWESOME and BEST school in all aspects. My son really loves going here. Clean facility, good curriculum and activities for kids are well planned. I would specially like to appreciate and THANK YOU to Miss Ranjana who is lead teacher of class room 3. She is very good and kids really love her a lot. I also want to THANK YOU Miss Mirela (Front Desk) and Miss Rania (Director) for taking such good care of all kids and keeping parents well informed. Thanks Much for all your help !!!
Vinay G. – Fremont, CA – Updated Review

My son goes to LAPMS Peralta branch from last 4 months. This is AWESOME school. Clean facility, good curriculum and activities for kids is very thoughtful. I would specially like to appreciate and THANK YOU to Miss Mirela (Front Desk), Miss Rania (Director) and Miss Yara who is lead of Classroom 1. They do such a GOOD JOB in managing kids., handling everything and also keeping parents well informed. Thanks Much for all your help !!!
Vinay G. – Fremont, CA

I have been at Peralta for about 8 years now and I have been very pleased and enjoy being at peralta. The parents are very understanding and always have an open communication with them.
Yara Calderon – Union City, CA

I can work in a peace of mind everyday because I know my daughter is in good hands. She enjoys lunch at LNP and learned so much from the school. Sometimes the vocabularies she uses surprise me and I really appreciate the teachers constantly coach good manners to the children. All teachers and staff at LNP are very friendly and well organized. When she started elementary school, I can see her knowledge, reading, and writing skills are way ahead compared to other kids in her class. I wish they have all the way to high school and I know many parents thinks the same. Special Thanks to Ms. Roja, Ms. Sharma, Ms. Rania, Ms. Mirela, Ms. Archana, Ms. Rama, Ms. Carman, and Ms. Jasmine.
Christine Ng – Fremont, CA

I am so happy that we decided to enroll my 3 year old at LAPMS Peralta over a year ago. My son loves this place and so do we. The teachers are so encouraging and caring. Kids at this age need a lot of love and this is what I see all of them giving to the kids. Miss Rania and staff are wonderful with giving updates about children's development. Finally, at the end of the day my kid says he had a fun day at school and loves to go there!
Chaitra M. – Foster City, CA

I can work in a peace of mind everyday because I know my daughter is in good hands. She enjoys lunch at LNP and learned so much from the school. Sometimes the vocabularies she uses surprise me and I really appreciate the teachers constantly coach good manners to the children. All teachers and staff at LNP are very friendly and well organized. When she started elementary school, I can see her knowledge, reading, and writing skills are way ahead compared to other kids in her class. I wish they have all the way to high school and I know many parents thinks the same. Special Thanks to Ms. Roja, Ms. Sharma, Ms. Rania, Ms. Mirela, Ms. Archana, Ms. Rama, Ms. Carman, and Ms. Jasmine.
Zo – Fremont, CA

My daughter has been attending Learn and Play Montessori School on Peralta blvd since she was 2.5 years old. It took her awhile to adjust to coming to school; but once she did, it was very hard for me to pick her up at the end of the day because she didn't want to leave. I was asked by her to come later and later every time. The teachers there are lovely and very caring to the children and parents. The administration team and teachers always keep me and my wife informed about what happens with my daughter-regardless of injuries or not eating her lunch to not being herself, they will always give me a call to notify me. I always appreciate their phone calls when my child doesn't eat her lunch. It gives me an idea to prepare a snack for her for the car ride home. I've seen a lot of school and this is by far the most cleanest and organized facility in Fremont. If you want a peace of mind at work, I will recommend this school to you.
Michael R. – Fremont, CA

If you are looking for a great place where your child will learn and develop his or her individual talents and personality, in a very warm and caring atmosphere, this is the best I have known. I have been with this school since the day they opened and my son is currently enrolled. The staff is very competent and most importantly, from the child's perspective, very caring. They are also very responsive to parents requests and queries. I feel very comfortable leaving my child there for most of the day, knowing he will be well cared for, well fed and safe. I have recommended the school to many of my friends and I think they have all been very happy with the school as well!
Uthra S. – Fremont, Ca

Great staff, great teachers, great school! We are overprotective parents who fell in love with this school from the beginning. They have been great in supporting our son and us. Our son has already transitioned through three classes and he loves his teachers. In fact, it takes us ten minutes to leave as he goes around to say goodbye to all of the teachers and staff. The school also keeps the parents very informed and advise on how we can help the kids out of school as well. They also offer a variety of extracurricular activities, such as music classes, dance and tumbling. We highly recommend Learn and Play!
F H. – Newark, CA – Updated Review

My child has been in this preschool for over three years and we are very impressed with our child's development. As soon as we walk in, Ms. Yvonne and Ms. Cathe always greets us with a smile. The classrooms are always very clean and organized and my child never wants to come home. When I am at work, I feel very comfortable knowing that my child is well taken care of and if anything happens, the staff always calls and informs us. They do a great job calling you if your child did not eat lunch or if they are just complaining about something. We also really enjoy the events that they have. They are always tons of fun and are always so organized. The staff here really cares about every child that they have. I only wish that they go up all the way to Middle School.
Chiman T. – Oakland, CA

Hands down 100% best staff in the bay! The owners care and love shows through the director, clerk, teachers and assistants! My child has learned tons of new things and is very happy at the same time. My child now comes home stress free and looks forward to the next school day. Special thanks to Ms. Shirley who is the most amazing teacher I have encountered yet! Kudos to all of you!
Ronald R. – Union City, CA

Hi, my kid is going to this school for more than 2 years now. he just loves it and more than him i think i do. They have best staff, best teachers, friendly environment, great place to trust your kid for the whole day. when my kid joined this school he was really in terrible 2, the way they tuned him, molded him was just awesome. in a month or 2 they potty trained him, soft skills, self confidence, general knowledge, numbers, phonics, dance, music. Learn and play is just good at everything. Teachers really knows your kid's weakness and strength to that extent they are committed. Thanks a lot teachers for your commitment. Thank you learn and play for making a my kid a better person. Learn and Play Peralta just rocks 🙂 love you guys.
Savitha M. – Fremont, CA

Our 2.5 year old goes here since August and we have only good things to say about this school. The teachers are very friendly and nice. My son looks forward to go to school every morning. They offer a lot of interesting and exciting variety in their curriculum. They do offer lunch and snacks. Although, I send my son home cooked lunch now, the vegetarian menu looks decent and healthy. I would highly recommend this school to anyone who is searching for a good Montessori school in the Fremont area.
Anitha A. – Fremont, CA

Our son started at Learn and play Montessori School as a 3 year old and has loved it since his first day at this school. The school offers a strong academic curriculum, the facility is beautiful and a family oriented community that is hard to find elsewhere. The Director Miss Yvonne is warm and engaged, she knows all the children and families. We have loved the Montessori curriculum and the beautiful learning materials in the classrooms. Weekly instruction in art, music and movement make it a truly well-rounded experience. We are continued to be amazed by what he has learned at this early age. We are planning on keeping him at the school for Kindergarten. I have also loved the frequent family events. It has been a great way to get to know other parents and their loved ones. I highly recommend Learn and play montessori school.
Kavita Sarkar- Fremont, CA

i think choosing a preschool/daycare for your child is one of the hardest decisions to make. When I began to look at preschools for my son I was extremely discouraged…until I took a tour of this school. First, the facility is amazing. Clean. Neat. Organized. I know with kids, especially young ones, things hectic but I really wanted a place my son could focus when needed. Second, the staff was very friendly during the tour and answered all my questions. They have continued to be great and listen to any concern I had regarding my son. They are very attentive and seem to remember the details about each child. Third, the education my son gets is amazing. He is consistently bringing home some new piece of information he has learned. Most importantly for me, he loves it! Over all, we have had a great experience and strongly encourage and parent to take tour.
Roya K. – Milpitas, CA

I just wanted to take a minure to update m review. My son has been here now for over a year and I cannot express how happy we are with this school. The teachers/staff continue to communicate with us and are always quick to take action on an question/concern we might have. And, I could not speak more highly of the education he recieves. I feel very confident everyday when I drop him off that he will have a fun, safe and education filled day.
Roya K. – Milpitas, CA – Updated Review
Our Peralta Fremont Campus is nestled in Centerville District of Fremont. This campus is conveniently located off of Thornton Avenue and Dusterberry Way and minutes away from Newark and Highway 880. We are located at 4511 Peralta Blvd, Fremont, California. Please call us at 510-870-2324.
For More Information Call Us: (510) 870-2324
Email Us: [email protected]
Address: 4511 Peralta Blvd, Fremont, CA 94536