Online Preschool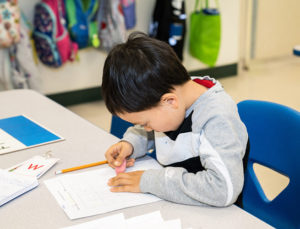 Our online preschool program provides an enriching hands-on learning experience with specially formulated Montessori materials for math, language, sensorial exploration, practical life activities, art, science, second language, music, history, and geography.
Ready for the details? Explore session times, how we use Facebook Live and Zoom, recordings, worksheets, and program costs on our program details page. We provide a virtual preschool program built on Montessori methods.
Our preschool children develop observation and problem-solving skills. We've worked hard at a best-in-class Montessori-inspired online curriculum for our virtual preschool. Yes, it's online or virtual, but our goals are to help the children. They learn by manipulating, experimenting, and discovering through Montessori materials and prepared environment. Children begin to move from the concrete to the abstract as they prepare for the more complex studies used in our online or virtual Montessori Kindergarten program.
Online Preschool: Summing Up
We're very proud of our online Montessori preschool programs. The children offer so much to us as parents and educators, and we're so pleased to offer them a world-class Montessori Preschool curriculum. We work hard for our students, and we try our best to make it convenient and rewarding as well for their busy parents. The new online world is opening up, and we are embracing the challenge to be the best online or virtual preschool available, based on the incredible Montessori method!