The Montessori Method and Childcare
Childcare is a critical experience for every child, and we're excited to be one of the newest childcare programs in Danville, California. Our Montessori-based childcare program is filling fast as Danville parents discover how convenient and exciting our program is for them and their children.
Childcare, after all, is a time when the child first leaves the safety and security of their mother and ventures out into the world. Childcare can begin as early as sixteen months, and our effort to provide the best childcare in Danville, begins with a deep understanding of the needs of each child. Every child is unique, and we work hard to comprehend the experience of childcare from the child's perspective. That's why we are so excited about our new Danville campus building on our storied history as one of the best childcare providers not just in Danville but in the greater East Bay (Dublin and Fremont, to be specific).
Learn and Play Montessori offers childcare in Danville, California, convenient to the 680 corridor, so people often come to us as we are "on their commute" to/from nearby cities like Alamo or Blackhawk, San Ramon or Walnut Creek, or Pleasanton on Diablo. We know that childcare is a big step for the child, and perhaps a more challenging step for the Danville moms and dads.
If you're curious about the Montessori method, or just looking for the best childcare in Danville, your first step should be a school tour. Contact our helpful staff today for a school tour by appointment or just drop by. We're proud and excited to showcase our childcare program, long considered one of the best childcare methodologies for burgeoning youngsters.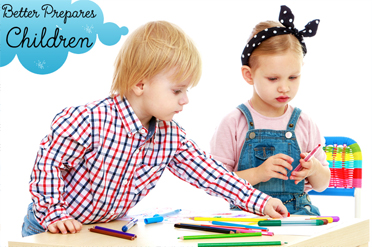 Even though childcare is typically thought of as just "baby sitting," we beg to differ. Maria Montessori realized that every child from the earliest age was a "lifelong learner" and was hungry to experience the world. For this reason, we work the Montessori method into our childcare program at a pace that works for each child. Nothing is forced; the goal is to instill a "love of learning" at the most fundamental level of the child.
Unlike many Danville, childcare programs, our Montessori programs set the groundwork for a lifelong learning experience for your child. We work with the child as they begin their journey from your house to the bigger world, helping them grow through a loving childcare methodology to set the groundwork for solid self-esteem and self-confidence.
If that sounds like something you want your child to be involved in, send them to Learn and Play Montessori Childcare!
Why Montessori as the Best Childcare Program for Your Child?
Here at Learn and Play Montessori School of Dublin, our main goals are based on helping your child improve their cognitive, physical, social, and emotional skills via age-appropriate methodologies. Learning comes differently for many children, so we know the way things are taught shouldn't all be the same. We want to do whatever it takes to help your child prepare for childcare, kindergarten, elementary school, high school, college, and life. If you want them to be prepared too, send them to Learn and Play Montessori School's Childcare! Our goal is to be not only the best childcare program in Danville, Fremont, and/or Dublin but also to be the best program customized to the needs of your child.
City Factoid
We're proud of the history of each of the communities we serve, so here's a factoid on local history.
Before there was a Danville, the original residents in the San Ramon Valley were Bay Miwok Indians who lived along the banks of creeks and spent summers camped on nearby Mount Diablo. When the Spaniards came, the area became grazing land for Mission San Jose, and later was a land grant called Rancho San Ramon.
The 1849 Gold Rush played a role in the birth of Danville, when miners flush with new wealth arrived on the scene. In 1854, two brothers, Daniel and Andrew Inman, bought 400 acres in Danville with their mining earnings. Within four years the new town had a blacksmith, a hotel, a wheelwright, and a general store.
Source: https://danville.com/channel/History-of-Danville/4519