Is your child potty trained? Is he or she walking and "toddling" around. Have you heard of the "terrible twos?" Well, we have, and we don't call them "Terrible Twos". We call them the "Magic Minis" or the "Terrific Toddlers" because, to us, at Learn and Play Montessori Schools, that is exactly what they are.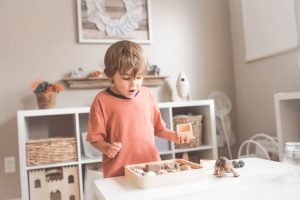 Yep, those little fellas (fellaresses?) are absolutely wonderful, and we love them, which is why we love to provide toddler care in Dublin, CA. We love toddlers because we know that the foundation of learning starts as early as possible. Let's face it: these little guys are exploring the world around them, with all the sights and sounds that they come across, and it is essential to get them off on the right foot on their many years of learning ahead.
Yes, our daycare means that you can go to work with the peace of mind of knowing that your toddler is in the best of hands, while at the same time getting his or her foot on the bottom rung of the ladder of learning. There is a long way to go, but the sooner they get started, the faster and better they will go. So, they will achieve the goals that you have for them much more easily than if they just spent their time playing about.
Make No Mistake
Oh, make no mistake. We let your toddler spend plenty of time playing, but at the same time we introduce him or her to the idea of learning and exploring. The Montessori method works so well because it allows the child to decide what to learn about. It follows that the child starts to find out about something because it has caught his interest. It could be any one of the many Montessori materials that we have at our various campuses, but the point is that the toddler is interested in it. So, what happens with our toddler care in Dublin, CA, is that the toddlers begin to love learning because they want to find out more.
Now, when you want to do something, you want to do more of it. It is logical. So, if the desire to learn is instilled into a toddler from a very early age, it follows that he or she will want to do more of it.
How much better is that than sitting on the floor with legs crossed, or at a desk a bit later in life, and learning about something because a teacher has told you that you have to learn about it?
That's why our toddler care in Dublin, CA, gives your child the best possible start on the long journey of education.