If you are a parent who needs daycare for your child, as many parents do these days, there are several options. For example, you might choose "in-home" daycare that you have found as an advertisement when you are looking for it in the papers or on Google.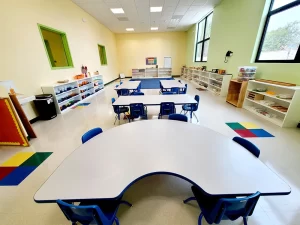 Now you could get lucky and find a great individual to take care of your child while you are at work. Equally, you could get someone who has children who have fled the nest and has decided to offer daycare based solely on their own experience of bringing up their own children. Unfortunately, many such people have no State of California or City of Fremont licenses, so it is rather a case of hoping for the best.
Now, as we said, you could be lucky, but then again you may get someone who spends the day looking at your TV while your child does his or her "own thing" mostly crawling around the floor!
Much the same thing applies to many daycares that seem respectable, and indeed may be, but still have no licenses from the State, the City of Fremont, or Alameda County. At the end of the day, how do you know what you are getting for your money? More importantly, what is going to be the effect on your child? That is what it is all about, isn't it? Ultimately, that is the most important thing.
This is why so many parents today are choosing to use us for their daycare at Learn and Play Montessori Schools. We have no fewer than eight campuses in the Bay Area, with a new one opening in Dublin Ranch, and another in Milpitas shortly.
Fully Licensed Daycares
Every one of our campuses is fully licensed by the State of California, County of Alameda, and City of Fremont where necessary. So, you have the peace of mind of having the advantages of a licensed daycare in Fremont, CA. We do everything "by the book" and all of our caregivers and instructors are best-in-class and meet all regulatory requirements. We would not dream of doing it any other way.
The advantages of a licensed daycare in Fremont, CA, are many. Not the least is that you can drop your child off on the way to work knowing full well that he or she will be in the best of hands. You won't have a care in the world, and your child will be getting his or her first steps in education off to the finest start in the Montessori manner.
If you would like to learn more about the advantages of a licensed daycare in Fremont, CA, then we will be delighted for you to drop by whenever it suits you and take a school tour to see how our teams perform.