If you are a parent living in Union City, Fremont, and your child is of preschool age you will doubtless be looking for Union City preschools. At Learn And Play Montessori we are right on the edge of Union City in Niles Blvd and we are the best of the Union City preschools because we use the Montessori method of learning.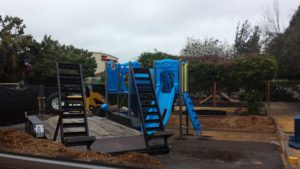 Our beautiful Montessori preschool campus is in a residential area and has nine large and light classrooms. It has a very large playground with plenty of equipment and lots of trees and shade. There is even a separate toddler playground for the toddlers to play in and explore the great outdoors. Our Montessori preschool so near to Union City yet in Fremont, California, takes children from the age of two to six, and emphasis is placed on tactile learning. The children use all their five senses to explore and learn rather than just sitting at a desk or cross-legged on the floor listening to a teacher talking.
Our large classrooms are full of Montessori materials designed to encourage the children to explore and make their own choices and decisions. Each child can choose whatever materials he wishes, to discover what they do and what they are for, so because the child is choosing he enjoys finding out and will want to explore further. Our teachers keep an eye on each child and will introduce him to further materials when the time is right.
No Pressure: That's the Montessori Method
When learning the Montessori way, there is no sense of pressure because the child is not expected to reach a certain target in a specific period of time. Children learn at different rates, some slowly and others more quickly, but that is fine under the Montessori system. The important point is that this sets each child on a lifelong exploration and expansion of his mind because for him learning is fun. Our children learn because they want to learn not because someone has told them they have to learn.
Our classrooms are specifically designed to provide a stimulating environment for the children, and they will engage in both fine and gross motor skills, speech and language, pre-counting activities, and learning to socialize with others. They're great for students, but many Union City parents like how easy we are for the common commute from Union City into Fremont, Silicon Valley and beyond.
Because they learn at different rates, our younger children mix with older children and there may be as much as a three-year age gap between the oldest and youngest in a class. This is good, because the older children often help the younger ones, so they are developing social skills as well as reinforcing their own learning.
So if you are currently considering Union City preschools we encourage you to come along to Niles Blvd and take a school tour at a time to suit you.