Ironically, Covid-19 has given you more Fremont preschool options than you might think. For example, there are now (a) online-only preschools or so-called virtual preschools, (b) traditional face-to-face preschools, and (c) blended preschools where your child does some work in the classroom and some online.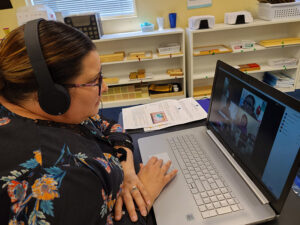 There are also the public preschools that, at present, are entirely online, so as you can see you can have the best of both worlds.
Fortunately, our Fremont preschool options let parents choose which one works best for them, so you could simultaneously be enrolled in a public preschool in Fremont and let our teachers do the heavy lifting to help your child stay on track.
At Learn And Play Montessori, we have no less than five campuses in Fremont – in Irvington, Peralta, Niles, Maple, and our new one that has just opened in South Fremont – so wherever you live and work in the city we are convenient for you. All of our campuses have large and airy classrooms with, in most cases, enlarged windows in order to let in as much natural light as possible.
Each classroom is packed with a wide range of Montessori materials which the child can choose from in order to explore them and find out about them, what they are, and – if appropriate – what they do or what you can do with them. We also have lovely playgrounds where the children can play and explore the natural world at the same time.
Every Child Is An Individual
The Montessori method is based around the premise that each child is an individual and is to be respected as such which is why the child is given choices as to what to learn about. This means that every child is learning about something which he finds interesting instead of listening to a teacher talking, and as a result, the child soon comes to love learning for the sake of learning.
This also means that the children are, by and large, all learning about different things at the same time. It follows that there is no sense of "competition" and no child is "better" than another one. Indeed, on our campuses, you will see that the older children actually help the younger ones out if they are having a problem understanding something.
Of course, if you opt for one of our Fremont preschool options of virtual learning, or a blend of virtual and face-to-face, it is not quite the same online as in the classroom. However, we have gone to great lengths to provide virtual learning that is second to none, by using Facebook Live, Zoom, and YouTube. We have sessions each day for children of different age groups and these are all recorded so that they can go on to our YouTube channel where the child can watch later if he or she was unable to make a live session. It also means the child can watch a session again if he wants to check up on something.