Setting a foundation for lifelong learning isn't easy. The Montessori program in Fremont, California, that we teach at Learn And Play Montessori, is best-in-class. We use everything Montessori to get kids to LOVE learning. We teach math, science, English, and other enrichment skills using the Montessori method. It gets kids to be EXCITED about learning, and when they love learning, guess what? They LEARN!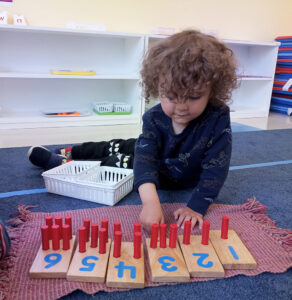 We have no less than five campuses in Fremont – in Niles, Peralta, Maple, Irvington, and South Fremont – and we also have campuses in Dublin and Danville. Not only that, but we have an exciting new campus that will be opening shortly in Milpitas because of the ever-growing demand from parents who want their children brought up in the Montessori tradition.
On top of that, we also have online learning available, which we developed as a result of Covid. We provide online learning programs that incorporate the best of Montessori combined with homeschool so that you can help your child at home to learn English, math, science, and more. These virtual learning programs are available to help children from the age of two to six.
Online Daycare: Yes, That's a Thing
We even provide you with online daycare for very young children so that they can have a fun online learning experience while you get to take a break for a while. Our online learning enables any child, and any number of children, to participate in Montessori in Fremont, California.
At our campuses in the East Bay, we have large, airy, and light classrooms which are filled with Montessori materials of the finest quality. Each child is allowed to look through all the materials until he or she finds something which catches their interest and then they can take that away and play with it, explore it, and above all learn from it. This is why our children quickly learn to love learning because they are learning about something that they want to learn about instead of learning something because they are told to do so.
Each child works at his or her own pace, and there is no competition to be the "best" at something, because in most cases the children are exploring something different from the next child in any case. The teachers keep an eye on how the children are doing, and then when they are ready will introduce them to some further materials. We have classes of mixed age because in many cases it means that an older child will help a younger one with something if he or she gets stuck. So, our children learn to respect and help others, which is what we all want in our society.
For further information about Montessori in Fremont, California, we are always happy to welcome parents for a school tour when you can see how well the children are doing for yourselves.