Summer is just around the corner! Here in the Bay Area we're blessed with great weather, wonderful museums, and incredibly fun and educational things to do with your kids during the summer months. Nonetheless, busy Bay Area moms and dads often look for summer learning opportunities for their children. Unfortunately, public kindergarten comes to an end, and you don't necessarily want your kids just being "babysat" during the summer. How can you combine fun and learning? Well, we have a solution: The MONTESSORI METHOD
---
SUMMER PROGRAMS
–
Contact us
for information on summer learning opportunities: daycare, preschool, and kindergarten in Fremont, Danville, and Dublin.
---
SUMMER MONTESSORI PROGRAMS FOR KIDS
Our schools – located throughout Fremont, Dublin, and Danville – offer wonderful learning opportunities for your children. Many parents use the summer months as a great way to check out Montessori Preschool and then decide whether to continue in the fall. First step? Come in for a CAMPUS TOUR. We have the following campuses, and all have SUMMER PROGRAMS –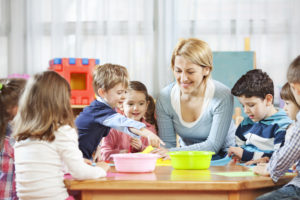 A SUMMER OF FUN LEARNING
Whether you're looking for daycare, preschool, or kindergarten, our programs use the MONTESSORI METHOD to combine learning and fun. The children get a full program of activities, both indoors and out, including learning based on the Montessori method. Montessori is an innovative method of observing and supporting the natural development of children. Montessori educational practice helps children develop creativity, problem solving, critical thinking and time-management skills, and care of the environment and each other.
COME IN FOR A CAMPUS TOUR
Your best first step towards finding a summer learning opportunity for your children is to contact us and come in for a campus tour. You'll see MONTESSORI in action and see the incredible summer learning opportunities that await your children.