Montessori is often seen as in opposition to STEM (Science, Technology, Engineering, and Math) because Montessori is "fun" and STEM is, well, "not so fun". It is more like hard work.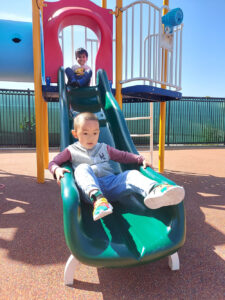 But at Learn and Play Montessori we don't buy into this false choice! We use age-appropriate, Montessori methods to encourage kids to LOVE to learn, and that includes STEM subjects! Indeed, you might call this STEM-oriented Montessori.
Why ever not?
For example, even if we have no ambition to become another Einstein, we all need to understand basic math. We can't live without it. How can you do your grocery shop if you are not able to add up the bill and check that it is correct at the checkout? If you are going to buy something that is $3.45 and you want to buy three of them, how do you know how much they will cost if you can't do basic multiplication?
We also live in an age of technology. Our grandparents, and in many cases parents, didn't have mobile phones and laptops, and the older generation still has trouble understanding them. Some just go blank at the thought of opening a laptop. But today, kids in school have to use them.
What is the science between blue and yellow becoming green? If you mix blue paint and yellow paint, you get green paint.
Could you build a garden shed from scratch if you didn't understand something about engineering? Probably not.
STEM Subjects Are Essential Knowledge
So, all these STEM subjects are essential knowledge, and at Learn and Play Montessori we get your child off on the right foot by teaching STEM-oriented Montessori. In other words, we use the Montessori method to teach the children STEM.
Of course, we also use it in everything that your child learns. Our children learn by doing, among other things. So, they will take a piece of Montessori material and find out about it – what it is and what it does – but at their own pace. This is important. Some children are quicker learners than other children, but that does not matter. Each child learns at whatever pace he or she is comfortable with. There is no rush.
This also means that there is no sense of competition or trying to "beat" the next child. In fact, quite the opposite. Our classes are of mixed ages, and it is often the case that an older child will help a younger child if he or she is having an issue with something and can't quite understand how it works or what it does.
So yes, along with movement, dance, language, and so on, we also use STEM-oriented Montessori to teach the children the basics that they need.