June 21, 2022 – Fremont, California. Learn and Play Montessori, a best-in-class preschool and kindergarten program in Fremont, Danville, and Dublin California, is proud to announce positive publicity around its Montessori preschool options. The online coverage bolsters the company's claim to be a best-in-class provider of daycare, preschool, and kindergarten in Fremont, California.
"We are excited about the positive coverage, but – truth be told – we are always even more excited by the smiles in our students' faces as they learn to love learning via the Montessori method," explained Harpreet Grewal, director of Learn and Play Montessori. "Interested parents are encouraged to read the articles, but even more encouraged to reach out for a consultation and campus tour."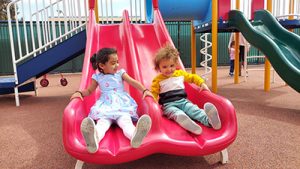 Persons who want to read the posts can visit them at https://iriemade.com/picking-the-proper-preschool-for-your-child/ and at https://www.moneyhipmamas.com/2022/05/5-tips-for-raising-happy-healthy-child.html. Indeed, the school is also included on Yelp's list of the best preschools in Fremont, California, at https://www.yelp.com/search?cflt=preschools&find_loc=Fremont%2C+CA. In all cases, however, the company strongly advises parents to reach out for a consultation and campus tour. No two students are alike, and thus the goal is to find the best match for their preschool needs. Persons who want to learn more about the daycare opportunities being announced can visit https://www.learnandplaymontessori.com/daycare/. That page explains the philosophy of daycare, which is inspired by the Montessori method (https://www.learnandplaymontessori.com/montessori-method/). Where age appropriate, information is given on science, technology, engineering, and math ("STEM"), so that children have a solid educational foundation when they start preschool and kindergarten.
Those parents who have young children can also explore options at the nearby South Fremont campus at https://www.learnandplaymontessori.com/south-fremont/. That campus is now open and offers full-time programs for day care, childcare, preschool, and kindergarten to parents in South Fremont. This private preschool in Fremont is also nearby to the City of Milpitas (https://www.milpitas.gov/) and the 680 corridor. Many South Fremont parents find it a great option for both their commute and their children. It's an exciting and vibrant school in an exciting and vibrant neighborhood of Fremont. Parents who want a top-rated private preschools are excited to start at the very beginning. Inspired by Montessori methods, even the day care or childcare programs help kids to start a lifetime of learning.
FINDING THE BEST PRESCHOOL IN FREMONT
Here is the background on this release. Positive publicity on the Internet is fantastic, as far as it goes. But much more important than mentions in blogs and even customer reviews as the best preschool in Fremont is the experience of each child. As Maria Montessori emphasized long ago, each child is unique. The goal of the teacher is to unlock the child's innate passion for learning. "Teachers" in the Montessori method are partners with the children, and this learning experience starts as early as daycare. Whether or not the Montessori method is best for the child needs to be made in consultation with the parents. Thus, the key step is a campus tour and a trial run of the Montessori method.
ABOUT LEARN AND PLAY MONTESSORI
Learn and Play Montessori aims to be one of the best Montessori schools in the greater San Francisco Bay Area. Whether parents are looking for a Montessori School in Danville, a Blackhawk preschool, or a top-rated Montessori School in Dublin / San Ramon, Learn and Play has a campus for their child or children. Bay Area parents searching for Walnut Creek preschool options could find the right fit in Danville. All schools use the famed Montessori Method, offering programs from childcare to daycare, preschool to kindergarten. Schools are located in Danville, Fremont, Dublin, South Fremont, or San Ramon, and nearby towns such as Alamo, Blackhawk, Diablo, or San Ramon on the I-680 corridor and Walnut Creek. Bay Area Parents can find new locations at The Vineyards/Avalon in South Fremont and Warm Springs neighborhoods.