We're passionate about the Montessori method! We find that getting kids excited about learning by getting them to "love to learn" is a key foundational attitude. Everything else – reading, science, STEM skills – comes much easier if they LOVE to learn. We provide the best Montessori programs in Fremont.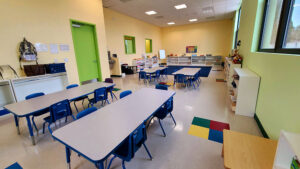 Notice that we put the emphasis on "learning"- not on teaching. The way that the Montessori method works is by letting the children choose what they want to learn about. We don't have them all sitting cross-legged on the floor listening to a teacher talking. Far from it.
All of the classrooms in our campuses are large and light, and many have extended windows, because we like as much natural light as possible. Every classroom is filled to the brim with top-quality Montessori materials, and every child is free to roam through the room and explore those materials and find something which interests them. This could be anything that catches the eye. They can then take those materials off by themselves and sit down and play with them, explore them, open them up, and do whatever it is that they do.
The Child Is Learning About Something Interesting
We offer the best Montessori programs in Fremont, and as you can see, this means that each child is learning about something that he or she finds interesting and so is keen to find out more. This means that our children very quickly come to love learning for the sake of learning. They want to find out more. They want to explore and see what something does, or how they can build with it, and interact with it.
We also have a range of ages in each class because we find that the older children will help the younger ones if they are having an issue with something or can't figure out how something works. This also enables the teacher to guide each child in whatever he or she is learning about according to that child's individual needs.
Because each child is learning about something different from the next one, he can proceed at his own pace. There is no rush – no deadline to meet. Some children are simply faster learners than others, so the Montessori method puts no pressure on the child. While there is no pressure on the slower learner, it also means that those who learn faster are not held back, because the teacher will keep an eye on them and introduce them to new materials at the point that they are ready.
If you would like to learn more about the best Montessori programs in Fremont, we are always happy to offer all parents a school tour. Just click on the "Tour" link at the top of the page and select the campus that is best for you.