When it comes to education, every state has its own unique standards, and in California, they are set high. Many parents are now teaching their children in the home as a result of Covid-19, and if that's you, then you need some help.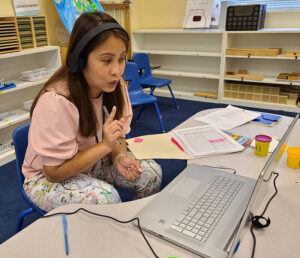 Unless you are a trained and qualified teacher, you can't do everything on your own, and that's why at Learn And Play Montessori we are now able to offer virtual preschool in California.
Of course, all of our campuses in the East Bay area are fully open as they were before the shutdown, so if you want your child to have face-to-face tuition you can come to our Danville or Dublin locations, or any of our five campuses in Fremont, including the new one in South Fremont that has only just opened.
Other Options for Preschool: Online and Virtual
Other options are our virtual preschool in California or a blend of both. We are here for you and your child in whatever manner suits you best. Everything is based around the Montessori method, although it has to be said that our virtual preschool is not quite the same. For instance, when your child comes on to campus, he or she is able to roam the classroom and select from the huge choice of Montessori materials that we have.
He can sit down on his own and explore them, or he can choose to work with one or more other children as they find out about the materials they have selected. And all of our campuses have wonderful playgrounds because we believe that children should get out into the open and commune with nature as often as possible. Now your child cannot play or work with other children if you are using our virtual preschool in California, although, of course, he can go out into the yard if you have one.
However, there are other benefits because it means that if you are not within comfortable driving distance of one of our campuses your child can now benefit from the Montessori method in your own home. So if you live in Berkeley, Daly City, Boulder Creek, San Rafael, Fairfield, or one of many other cities further away from the East Bay, your child can still have all the benefits of the Montessori method online.
Our virtual preschool works using Facebook Live, Zoom, and YouTube, and we have daily lived sessions for children from 18 months to 6 years of age, all of which are recorded so that your child can catch up on our YouTube channel if for whatever reason he is unable to attend a live session.
For more details, call us on (510) 955-1001 or email [email protected]