If you are looking for a Montessori program for your child or children, then congratulations! We fervently believe that there is no method of teaching youngsters which comes even close to the Montessori method.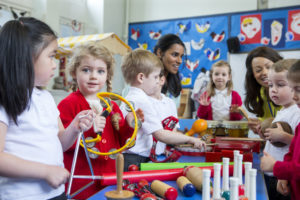 One of the beauties of it is that it lets children learn because they WANT to learn rather than because they have to learn. If you actually want to do something you are going to be far more keen to do it and learn about it than if you are forced to sit and listen to something which doesn't interest you.
However, when you are looking for a Montessori program you need to be aware that not all Dublin Montessori programs are created equal. Just because the school name has Montessori in it doesn't mean that it is necessarily best in class. At Learn And Play Montessori, our teachers do receive best-in-class training because we run a training program ourselves (we do have no fewer than six schools in the East Bay Area after all) and they are ALL certified. Every last one of them. That can't be said for every Montessori school teacher.
Your Child Deserves A Qualified Program in Dublin, California
Certainly, your child deserves one of the Dublin Montessori programs but he or she deserves a qualified program! Our Dublin Montessori is situated just off San Ramon Blvd in Dublin and is ideal for both Highway 680 and Highway 580, so it is a simple matter to drop your child off on the way to work and pick him up again at the end of the working day. The campus is open at 7.00 am and stays open until 6.30 pm, so is ideal whatever your working hours may be. We are equally well-suited for parents who live in San Ramon, of course, as it's only a few minutes away. Furthermore, we are open all year round: we don't close for three months in the summer like the public schools do.
Our Dublin campus has five beautiful large classrooms which are brimming over with Montessori materials. They have extended windows so that the children can get as much of the natural light as possible, and they are large so that they can move around freely and find the things which interest them. We also have a large gated playground near the back of the school so that the children can play outside when the weather is good.
One of the beauties of the Montessori method is that there are no deadlines. Each child proceeds at his or her own pace. Some children are quick learners, and some are slower, but the teacher watches what the child is doing and then introduces new materials when the child is ready.
If you are looking for Dublin Montessori programs, we welcome you to come to our school and see what we do for yourself.