February 23, 2022 – Fremont, California. Learn and Play Montessori, a best-in-class preschool and kindergarten program in Fremont, Danville, and Dublin, is proud to announce a content update to its page on childcare for Fremont, Dublin, and Danville. As more and more parents are returning to in-person work, the demand for best-in-class childcare programs is dramatically growing.
"Many parents and caregivers have postponed in-person childcare for their kids during the Pandemic. Now, however, as many are returning to in-person work, they are looking for best-in-class childcare programs in Dublin, Danville, and Fremont, California," explained Harpreet Grewal, director of Learn and Play Montessori. "As we are getting more and more inquiries for top-rated childcare programs, we've chosen to update our information page on the topic. Digitally savvy Bay Area parents and guardians can start there, and then reach out to our staff for an in-depth consultation on which childcare program will be best for their child."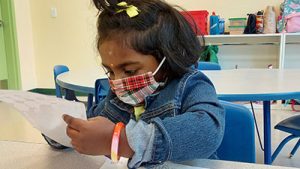 Persons who want to read more can visit the updated page at https://www.learnandplaymontessori.com/childcare.
WORKING PARENTS NEED CHILDCARE IN FREMONT, DUBLIN, AND DANVILLE
Many Bay Area parents are two-income households. Both partners work. Many are now returning to "in-person" work as the Pandemic abates. Thus, while previously, they have put off childcare services, they are now looking to find top-rated childcare programs in Fremont, Danville, and Dublin. These key communities in the East Bay have many tech workers and commuters who are young families with young children. Thus, they need best-in-class childcare, which means a) convenient hours, b) convenient locations, and c) (most importantly), a top curriculum Learn & Play bases its program on the Montessori method and, where age-appropriate, instills Montessori values into the children. The goal is simple: to encourage the child's innate love of learning, to grow that love of learning, and set that foundation so that that love of learning lasts through not just childcare, but preschool, kindergarten, grade school, middle school, high school, and college. Like the foundation of a building, the foundation of
ABOUT LEARN AND PLAY MONTESSORI
Learn and Play Montessori aims to be one of the best Montessori schools in the greater San Francisco Bay Area. Whether parents are looking for a Montessori School in Danville, a Blackhawk preschool, or a top-rated Montessori School in Dublin / San Ramon, Learn and Play has a campus for their child or children. Bay Area parents searching for Walnut Creek preschool options could find the right fit in Danville. All schools use the famed Montessori Method, offering programs from childcare to daycare, preschool to kindergarten. Schools are located in Danville, Fremont, Dublin, South Fremont, or San Ramon, and nearby towns such as Alamo, Blackhawk, Diablo, or San Ramon on the I-680 corridor and Walnut Creek. Bay Area Parents can find new locations at The Vineyards/Avalon in South Fremont and Warm Springs neighborhoods.