STEM stands for Science, Technology, Engineering, and Math. Many Fremont California parents are very concerned that their children get a strong foundation in technology. However, you can't exactly teach a kindergartner quantum physics!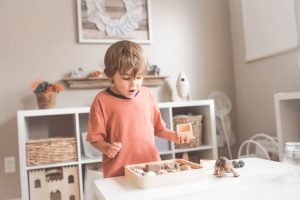 But you can instill a passion for learning, and help that kindergartner get the foundations in math, science, technology, and even a little bit of engineering, and that is what we do at Learn And Play Montessori. Our best-in-class private kindergartens in Fremont, Danville, and Dublin help kids not only learn STEM but love the basics. Loving science, technology, engineering, and math is the key to learning these subjects!
Certainly, every child is an individual and the Montessori method of learning respects that, but as a STEM-oriented kindergarten in Fremont, CA, we have a huge store of Montessori materials which, among other things, cover STEM. The Montessori method allows each child to roam the classroom and look over the materials and then select something which he or she finds of interest. Very often, this may be something related to one of the STEM subjects, so the child will take away the materials and explore and/or play with them.
The Children Learn Because They Want To (!)
As a STEM-oriented kindergarten in Fremont, CA, we know that this starts your child learning about something because he or she actually wants to find out about it. So, as we have said elsewhere, the Montessori method very quickly has a child develop an interest in learning rather than having to learn about something, which is the traditional method of teaching. For example, sitting down and listening to a teacher talking about something which may not interest the child at all, but nonetheless, he does so because he has been told to listen. He may possibly learn, but then again, he may well not because he is being force-fed.
To take another example, let's suppose that you have absolutely no interest whatsoever in listening to opera, but your best friend loves it and insists that you go to the opera with him or her. You are going to be sitting there for two hours bored out of your mind! And since it is probably in Italian anyway, you will come out not even having any understanding of what it was about.
The Montessori method has your child learning, and with an open mind, because he is doing something that he finds interesting. And the more he explores, the more he wants to continue and find out more. Because we are a STEM-oriented kindergarten in Fremont, CA, our daycare, preschool, and kinder teachers will keep an eye on what your child is doing and, when the time is right, will introduce him to some further materials. It makes learning fun rather than a chore.
If you would like to find out more about Learn And Play Montessori, we invite you to drop into any of our campuses in Fremont, Danville, or Dublin, and come and see for yourself. See what the children are doing and how they are progressing!