We have no fewer than five campuses – in Irvington, Maple, Peralta, Niles, and South Fremont – so wherever you are in the city there is one not far from you. We also open at 7.00 am and we remain open until 6.00 pm so that means that whatever your working hours may be, we are convenient for you.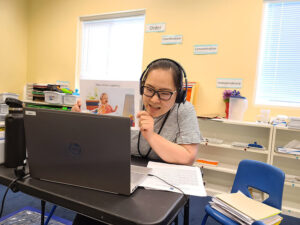 Not only that, but if it is better for you, we also have a campus in Dublin and another in Danville if you commute along the I-680 or I-580. Indeed, we serve the whole of the East Bay area.
However, if you need a Montessori kindergarten in Fremont, CA, the choice is yours. Let's take a quick look at our Irvington campus, for instance. This has eight spacious classrooms containing a myriad of Montessori materials from which the children can choose. The classrooms are light with large windows to let in as much natural light as possible. Each child is treated as the individual that he or she is, and is allowed to wander the classroom to find something that is of interest.
No Pressure On A Child
The materials encourage children to explore them and learn at their own pace. Some children are naturally quick learners while others are not, so there is no pressure on a child to achieve something within a certain time frame. The Montessori method also means that the children are not competing with or against each other because they are almost all learning about something different from the next child. Since there is no pressure, and the child is learning about something that he finds interesting, the child soon learns a love of learning which is a skill that will last a lifetime. The teachers keep an eye on what the child is doing and will introduce him to new materials at the appropriate time.
But it may be that you are starting to homeschool your child, which many parents are doing as a result of Covid-19. That is fine, because we also provide a Montessori kindergarten in Fremont, CA, online. Yes, we have a virtual learning program for your child as well. Our teachers have taken to the online method of learning like ducks to water, and our Montessori materials have both a real world and online component. We encourage our parents to download Montessori-inspired worksheets and deliverables for their children.
In order to learn more, we encourage all parents to visit their local Learn And Play Montessori campus for a school tour so that you can see what the children are doing, and find the best kindergarten method for your child, whether face-to-face, online, or a blend of both.