Among folks who live in the Bay Area, Dublin is a secret. It's a "hidden gem" in the East Bay with a very high quality of life. Lots of families move to Dublin, and then they look for Dublin, California, preschools. And when they do, they find another hidden gem: Learn And Play Montessori School.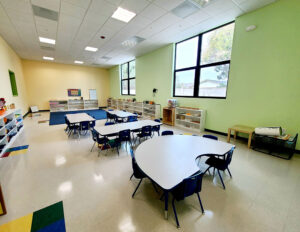 Our state-of-the-art Dublin preschool & kindergarten has five large classrooms filled with the highest quality Montessori materials from which the children can choose. The classrooms have extended windows in order to let in the maximum amount of natural light which helps to contribute to the overall environment in which the children can learn. There is also a splendid playground near the back of the school which is fully gated and secure so that the children can play out of doors as often as possible.
The Montessori method of learning differs from other Dublin, California, preschools because it allows the children to choose what they wish to learn about. Each child is an individual and is to be respected as such. The children can select whatever they wish from the materials that are available, and this quickly develops an interest in learning because each child is learning/playing with something that he or she finds exciting and therefore wants to find out more about it and what it does – if indeed it does something – and this creates a habit of curiosity and exploration.
A Far Better Way Of Learning
This is a far better way of learning than having a child sit cross-legged on the floor listening to a teacher talking about something which the child may find of interest, but then again may find of no interest whatsoever. Our teachers keep an eye on what the child is doing and when it seems that he or she is ready to go forward will introduce some further materials.
Another big benefit of the Montessori method of learning is that there is no element of competition. As each child is learning about something different, there is no "race" to see who can finish first or who is "best".
The Montessori method also teaches the child to use all five senses when learning rather than just seeing and hearing. So, the child develops skills that he or she would not do under the traditional methods of teaching. In fact, that is a large part of the difference because the child uses his or her skills to learn rather than being taught. It develops a sense of inquisitiveness and a desire to find out more.
So if you are looking for Dublin, California, preschools and would like to find out more about what we can do for your child, you are very welcome to come and see us for a school tour and see how well the children are doing for yourself.