If you want the best preschool in Dublin, CA, for your child, you want Learn And Play Montessori. Many parents come in full time, but others want to homeschool their child.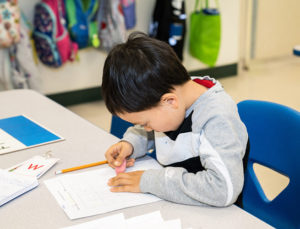 Still others would like a blend of both – some face-to-face and some online. At Learn And Play Montessori, we've got you covered whichever way you want because our Dublin campus is open, and at the same time we now offer a full suite of online learning covering everything that your child needs. You choose whichever way suits you best!
The Dublin campus has five large and light classrooms with extended windows, and each is filled with sequenced Montessori materials which allow for endless learning opportunities. The campus is located at 11900 Silvergate Drive and is open from 7.00 am to 6.30 pm so we are convenient whatever your hours may be as a working parent. We take children from the age of 18 months to six years. As the best preschool in Dublin, CA, our campus also has a playground near the back of the school which is fully gated and provides a safe place for children to learn and play outside.
Online Learning Available Every Day
Our online learning program is available every day and is designed using all of the finest Montessori principles. We have sessions every day on Zoom and we also use Facebook Live. Our Facebook page stores a recording of every class that we hold. They are all recorded so that your child can go back and watch them again if necessary. This also means that if your child is unable to watch a class live, he or she can catch up with it later on. You really do get the best of all worlds with Learn And Play Montessori.
Our online preschool program covers a hands-on learning experience with specially formulated Montessori materials for math, art, science, history, geography, music, language, a second language (Spanish), and practical life activities. We have built a complete virtual preschool program based entirely upon the Montessori principles.
Certainly, it is online, so it is a little different from the face-to-face classroom, but with the pandemic having changed our lives so much, we considered it our duty to ensure that every child can have the best preschool in Dublin, CA, whether or not they can make it into the physical classroom.
At the beginning of every week, an agenda for the week together with a materials list is uploaded to our Parent Portal, and a new password is emailed at the beginning of each month to parents who have enrolled for that month.
We have taken very great care to ensure that, pandemic or no pandemic, your child can still attend the best preschool in Dublin, CA.