Irvington is a wonderful neighborhood in Fremont, California. It's one of the "cooler" neighborhoods in an admittedly suburban city. It's convenient to I-680 and thus a gateway to Silicon Valley. So, many parents travel down it to work in one of the tech giants there.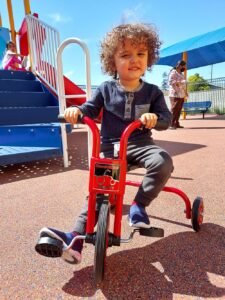 However, if you are looking for a daycare near Irvington in Fremont, CA, it is not so easy to find. If you live in the area and have to go down the 680 to work, the ideal answer would be to have daycare near to where you live. Fortunately, at Learn And Play Montessori, we have a state-of-the-art campus at 40803 Fremont Blvd, Fremont, CA 94538, which is in Irvington itself. We also have another campus that opened very recently at South Fremont. So, we have you covered with daycare near Irvington in Fremont, CA.
Daycare is an important part of every child's learning and is when the child is beginning to find out about the world and starts to interact with other children. It is important that your child gets started on the right foot and begins to find out what learning is all about. Many Fremont daycare programs just allow the child to play with blocks and draw pictures, but at Learn and Play Montessori daycare near Irvington in Fremont, CA, we go a lot further than that.
Developing Children's Brains
Certainly, children need to play, but we also want to start developing their brains in the right direction, so we put our attention on many of the subjects that your child will start to learn about when they enroll in school a year down the line. They include math, movement, physical arts, language, science, and visual arts, in order to give them a good grounding from the word go.
Our children will learn vocabulary, start to learn to read, play with puzzles, and learn off flash cards, all with the object of preparing them for the years ahead, so that they start off with an advantage over other children who have not had these experiences.
The Montessori method teaches your child how to work with others, and at the same time allows each child to work at his or her own pace. Right the way through preschool and kindergarten, there is no pressure. Our aim is to prepare your child for the years ahead all the way up to university, and beyond that to a full and satisfying life. And it all begins at our daycare near Irvington in Fremont, CA.