Fremont is often known as the Tri-cities area. Why? Well, because there's Union City, there's Fremont, and there's Newark here in the beautiful East Bay of the San Francisco Bay Area.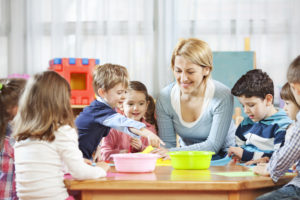 Many Newark parents looking for Newark, CA, preschools are overjoyed to learn that they have a best-in-class preschool option just up Mowry, Central, or Thornton here in Fremont.
And what is it? It's Learn And Play Montessori. And it's not just one choice either, because we have no less than four Newark, CA, preschools in Fremont – in Niles, Maple, Peralta, and Irvington. After all, it's only just up the road, and wherever you live in Newark, California, work in Newark, or work in Fremont, there's a Learn And Play Montessori which is ideal for you and your child. What could be better?
Why Learn And Play Montessori? Good question. The fact is that the Montessori method of learning has been proven to be far better than most other methods over the last 80 years or so. Maria Montessori was an Italian who believed that children are actually important, and that their needs and desires should be taken into consideration. As she said, "One test of the correctness of educational procedure is the happiness of the child". We couldn't have put it better ourselves.
Were Your School Days Happy?
Do you remember your school days? Were you happy? Did you have fun? Or was it constant drudgery? Sure, you learned. Sure, you may have graduated with a degree. But did you actually ENJOY all those years?
You might have done, but we suspect that the answer most people would give would be a resounding "No".
So why should the first 15 years or more of your life be something that you would prefer to forget? It really doesn't make any sense. Instead of having something drummed into you by repetition, wouldn't it have been more fun if you were learning about something that you found to be fun?
This is why, if you are looking for Newark, CA., preschools, you should consider taking a look at Learn And Play Montessori in Fremont, right next door to Newark, California.
The way that the Montessori method works – and which we follow strictly in our schools – is that we provide a large choice of materials in our classrooms, and each child gets to CHOOSE what to learn about. He finds something which takes his interest and picks up the relevant materials and finds out about the subject not because he has to, but because he WANTS to. Isn't that a better way to learn about something? Learning because you want to do it rather than because a teacher has told you to do it? We think so.
As a Newark parent, we would encourage you to drop in to any one of our Fremont campuses any time between 9.00 am and 5.00 pm Monday through Friday, and we will show you what we mean.